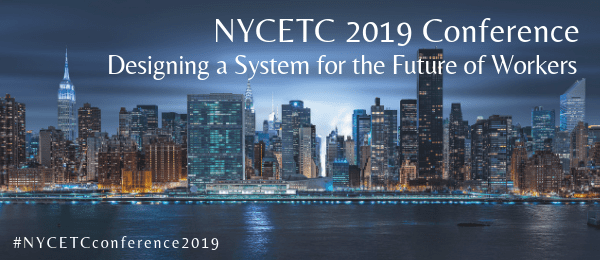 We are thrilled to announce that registration is now open for our upcoming conference on September 23 at the CUNY Graduate Center!
This year's theme – "Designing a System for the Future of Workers" – will examine the systemic, programmatic and business opportunities and challenges currently impacting employers, policy officials, philanthropy, jobseekers and workforce organizations.
Topics to be explored include:
Workforce Development Policy

The Role of Technology and Big Data Tools in Recruiting Practices

Employer Talent Needs

Public and Private Partnerships

The Diversity of NYC's Talent Pool
NYCETC's conference is the premier event of NYC's workforce development community, bringing together over 500 national and local experts, employers, workforce professionals,  government officials and funders for a day filled with information, idea sharing and networking.
NYCETC 2019 Conference: Designing a System for the Future of Workers
Monday, September 23
9 am – 5 pm
CUNY Graduate Center
Learn more and register here today!
Interested in presenting a workshop at the conference?
Proposals are due by 5 pm on Wednesday, July 31 and can be submitted online here.
Thank you to our early partners and supporters! 
You can learn more about partnership opportunities here.