Bridging New Yorkers into Good Jobs: A Toolkit for Expanding Bridge Programs in NYC
Download Full Report & Toolkit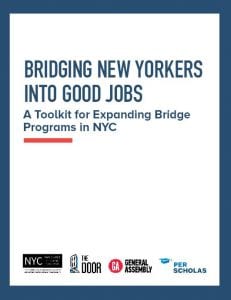 This report was originally completed in February 2020. However, even through periods of economic growth like the one experienced over the last decade, thousands of New Yorkers still struggled to find stable, well-paying, and quality jobs and careers.
Since mid-March, the economic gap has only been exacerbated by COVID-19 and the related recession, which has increased city unemployment rates to 20.4%. The over 750,000 jobs lost from June 2019 to August 2020 have primarily come from service-based industries, like leisure and hospitality, which are often categorized as low-wage and low-skill jobs. Transitions to more stable, higher-paying fields– such as technology and healthcare – are currently unfeasible for many New Yorkers as they lack the needed skills or educational credentials to access jobs in these fast-growing fields. Historically, access to quality education, professional networks, and skilling opportunities have been denied to the working class, immigrants, and communities of color.
A body of evidence suggests that bridge programs, which prepare individuals with the foundational skills needed to enter and succeed in job training programs, enable a diverse group of New Yorkers to pursue careers that were previously out of reach. However, as with any relatively nascent sector, there remains a lack of consensus around key definitions and approaches to effectively developing, implementing and supporting bridge programs.
This report, commissioned by the New York City Economic Development Corporation (NYCEDC), and produced by the New York City Employment and Training Coalition (NYCETC), Per Scholas, The Door and General Assembly, provides an overview of the landscape of bridge programs in New York City, quantifies the need for those programs, identifies systemic challenges that pose barriers to bridge program expansion, and proposes opportunities and recommendations to further develop and support bridge programs in the city. The report is accompanied by a resource guide providing strategic guidance to organizations interested in developing bridge programs.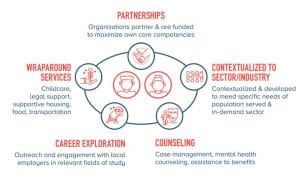 The report makes the case for a substantial expansion of bridge programs across the city, both through increased investment by City agencies and through expanded private philanthropic funding. A conservative estimate suggests that as many as 590,000 New Yorkers could be served by bridge programs in the near term, indicating an urgent need for more such programs to build on the existing ecosystem. While the long-term implications of the current financial crisis remain unclear, the demonstrated need for bridge programs in a tight labor market shows that they will be even more critical for New Yorkers facing even greater barriers to employment than prior to the pandemic. It is clear that the need for job transitions and career pathways – particularly for those working in industries that will be slow to recover or are transitioning rapidly – will be more urgent than ever before.

This report has two major goals. First, it aims to jumpstart a discussion about the role of bridge programs in improving not only the employment prospects of individual New Yorkers, but also the city's broader workforce development systems. Second, it offers specific guidance for organizations interested in developing and scaling bridge programs of their own, as well as for policymakers, funders, and advocates interested in supporting them. At this historic moment for New York City, meaningful investment in bridge programs can create the pathway into the middle class, particularly for individuals who previously lacked access to skilling and educational networks.