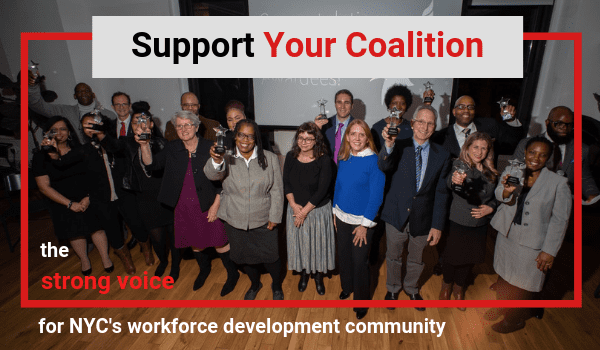 Dear Coalition community,
On this #GivingTuesday, support your Coalition's vision to ensure a strong and diverse community of NYC employment and training organizations, participants, employers, funders and government partners.
Your contribution will directly support work to develop a robust and innovative workforce system bolstered by public policies that strengthen the services that the public sector, funders, employers and community-based organizations provide to all New Yorkers.
What We Fight For
We are fighting for a fully-funded transformation of the City's system of economic and workforce development
We are fighting to ensure City leadership enact policies and targeted investments in job quality and living-wage career tracks
We are fighting to ensure City agencies operate with consideration for people, community and local business
Thank you for the work that you do each day to help our fellow New Yorkers thrive and achieve economic self-sufficiency for themselves and their families. We are honored to advocate with you for a more equitable city for all New Yorkers, the organizations that support them and the businesses that help them thrive in quality careers.
With gratitude,
Joey