NYCETC's Member Spotlight series introduces our readers to the wide variety of workforce programs and services that our members offer across the five boroughs, highlight the ways in which organizations have shifted their services to best support their clients and communities during the COVID pandemic and within the post-COVID economy. This week we focus on Eckerd Connects NYC.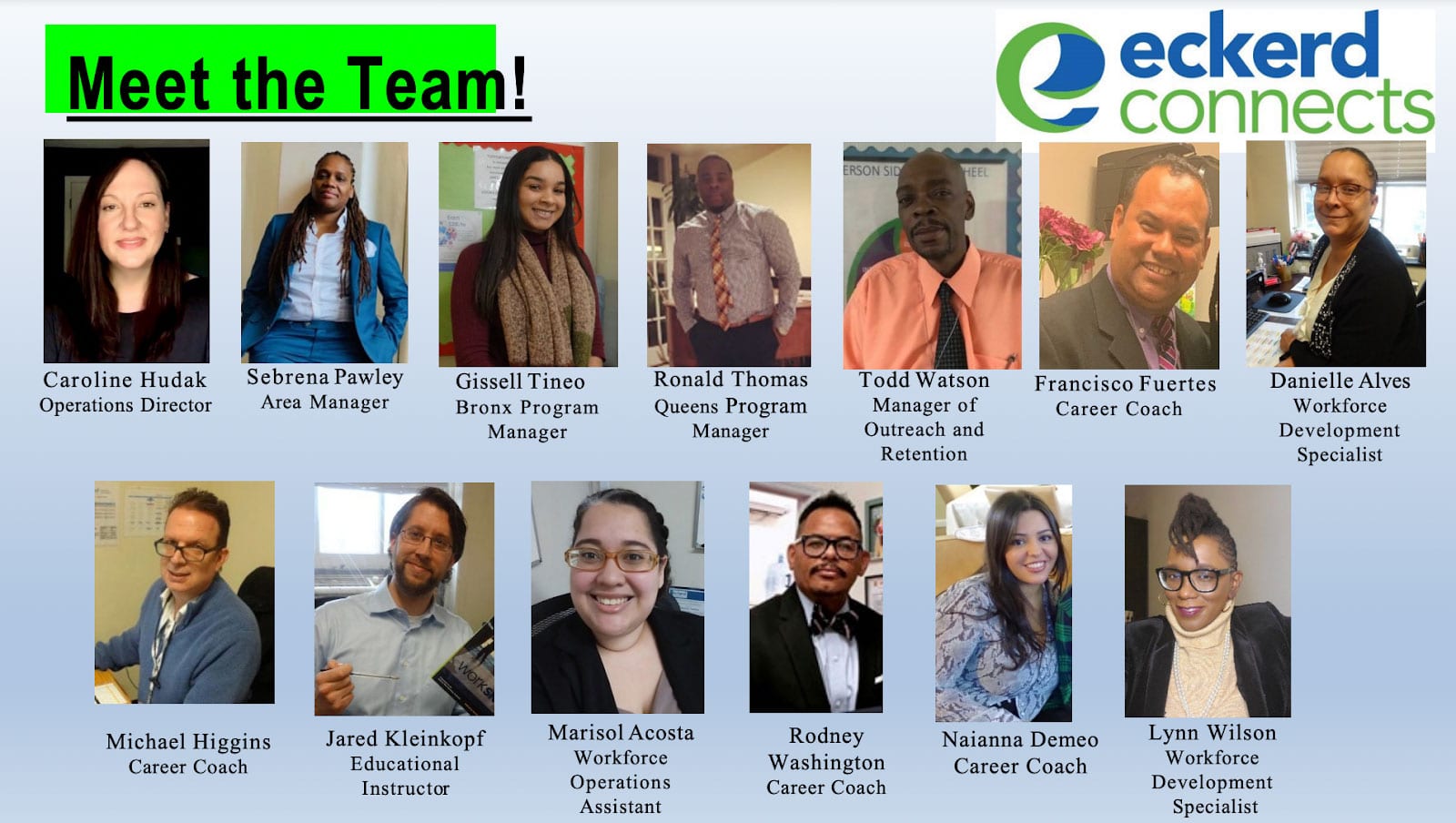 Eckerd Connects NYC (Eckerd) provides training and support services to young adults in need of additional preparation and support to continue their education or to gain employment. Their Train & Earn programs are WIOA aligned, and serve 160 young adults between their Bronx and Queens locations each year. Their 6-week long programs provide career training in the food service, healthcare, and retail sectors, and include job placement assistance, paid internship opportunities, financial literacy training, customer service certification, access to an onsite Licensed Mental Health Professional (LMHP), as well as social and racial equity focused workshops. Operating onsite and in collaboration with Bronx Community College for over a decade, Eckerd helps young adults identify college as an attainable goal, and 30% of participants go on to enroll in post-secondary education after completing their program. In addition to their Bronx-based program, Eckerd collaborates with the New York City Department of Education Pathways to Graduation (P2G) program in Queens. P2G assists young adults in earning their High School Equivalency Diploma.
Just over a year ago, as with most workforce organizations, Eckerd fully transitioned to remote working and virtual programming, training, and case management. They had to adapt quickly in order to ensure that there was no disruption in services for their young adults during the Covid-19 pandemic. They relied on Google Works, Microsoft Teams and Zoom as technology platforms for their virtual services. For young adults that did not have access to computers Eckerd provided tablets so that they could continue to attend programs and trainings.
While they were able to successfully implement virtual service platforms and provide tablets, there were still a number of challenges. One of the most significant has been ensuring that young adults, including LGBTQ+ youth, who are in volatile home environments or who've experienced domestic violence are able to still get assistance while sheltering in place. Prior to the pandemic, young adults in these conditions would have been able to go to a city shelter, rely on a friend to provide a safe haven, or come to Eckerd for assistance and referrals. Additionally, a large number of the young adults Eckerd serves are dealing with mental health issues that have been exacerbated by the pandemic. Their Licensed Mental Health Professional provides a number of referrals and ongoing guidance and counseling virtually to ensure that they have the services and tools needed to maintain their health and well-being during this difficult time.
Eckerd has seen a significant uptick in depression in the past year among young adults, finding themselves deeply impacted by the twin pandemics of Covid-19 and systemic racism, particularly the continued harassment and police brutality toward Black Americans in our city and country. Having a dedicated LMHP on staff allows Eckerd to facilitate workshops that tackle some of the common issues surrounding depression such as self-care, relationships, sexuality, and anxiety. Additionally, Eckerd has created workshops to speak freely about systematic and systemic racism, such as America's Broken Criminal Justice System & Inequality and Injustice, The Definitive History of Racist Ideas in America, Generational Trauma and African American Mental Health Issues, Awareness and Activism, Civil Disobedience and Being Resilient. These workshops proved to be beneficial as they were able to successfully engage young adults in productive conversations about race and racism, and have them begin to think of ways to facilitate change in their communities. Eckerd's latest news, as well as ongoing workshops can be found in The Scoop, their monthly e-newsletter.
Eckerd recognizes that a number of challenges, as well as opportunities, lie ahead for workforce development organizations as New York City recovers from the Covid-19 pandemic. They anticipate that one long-term impact on workforce development programming will be a recognition of the need for and value of more flexible programming and the use of technology to meet the needs of participants. "Since March, we have been utilizing a number of platforms to provide virtual training and have found that remote programming has the potential to allow for more individuals to attend trainings and to increase participation ongoing. Additionally, the current crisis has also demonstrated how we need to be consistently responsive to the changing demands of the workplace in developing our trainings," said Sebrena Pawley, Area Manager for Eckerd Connects NYC. "We have had to incorporate new elements into trainings, such as how to interview virtually and how to manage time while working remotely, so our young adults are prepared with the skills set necessary for new employer requirements."
Moreover, Pawley marks the importance for training programs to be adaptive to meet emerging employer needs and concludes with the importance of providing supportive services along the way: "While we often focused on positions in the face-to-face service industry for young adults pre-Covid, we now need to revamp our training and placement services to align with new emerging sectors. One long term impact is sure to be the need for ongoing wrap-around and supportive services for participants, including assistance with referrals for housing, benefits, food, and health issues. We have seen a drastic rise in mental health issues among our participants that is sure to continue as they deal with the loss of loved ones, income, and a sense of security and hope for the future. These immediate needs will need to be addressed for them to become job-ready, self-sufficient, and contributing members of the workforce."