NYCETC's Member Spotlight series – which introduces our readers to the wide variety of workforce programs and services that our members offer across the five boroughs – is shifting to highlight the ways in which organizations have shifted their services to best support their clients and communities during the COVID pandemic and within the post-COVID economy.
Correction: Please note that an earlier version of this story mis-named the organization as "Building Works NY." The correct name is Building Skills NY. 
Share your organization's responses to COVID with NYCETC by completing this form.
---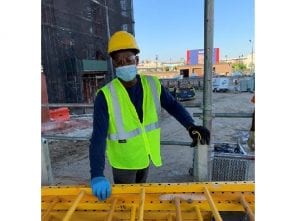 Brownsville resident Anthony Whyte, BSNY July Worker of the Month: "Before I found Building Skills, I never felt a true sense of job security. Now, my employment is steady, and I'm gaining the certifications and experience I need to advance my career in construction even further."
---
Building Skills NY (BSNY) works to provide New York residents with good paying jobs at local construction sites in underserved communities. BSNY's work has significantly improved access to one of New York's most lucrative sectors, placing close to 1,000 participants with over 100 contractors on over 80 construction sites in the past several years. This includes tapping into the city's push for affordable housing, highlighted in a recent NY1 feature of BSNY and its clients.
Since the COVID crisis began, BSNY has seen a significant decrease in enrollment, as new and existing clients remain anxious about returning to the workplace. To best prepare participants and support their employer partners, BSNY's team has been coaching participants on the New York State guidelines and safety protocols put in place at construction sites. These safety guidelines include: daily temperature checks, social distancing guidelines, handwashing stations, and emphasis on PPE and face covering masks. Additionally, BSNY continues to facilitate site safety training virtually, planning to help 100 participants get their final 10-hours of their Site Safety Training in August. This builds on the OSHA-30 training they facilitated last year for close to 300 participants.
"As New York continues on the path to economic recovery, the construction industry will be at the heart of citywide efforts to generate and sustain good, safe jobs for tens of thousands of local residents," said David Meade, Executive Director of BSNY and Board Member of NYCETC. "Now more than ever groups like Building Skills NY and its vast network of workforce development referral partners are needed to help New Yorkers get back into and maintain employment."
In addition to re-connecting participants to job-sites and re-placing those laid off, BSNY connected 25 participants in April to temporary full-time jobs that supported NYC's essential food relief efforts during COVID-19. In May and June, as construction ramped back up BSNY made 70 construction placements, which is above its monthly average. As one of the city's fastest growing and lucrative sectors, BSNY's ability to connect its program participants – who face a myriad of barriers to employment on top of the COVID pandemic such as a having a justice involved background, lacking a high school degree or equivalency, or facing housing and childcare instability – is having significant long term impacts on communities who have historically struggled to access this industry. In fact, 16 percent of the BSNY population lives in a zip code most impacted by COVID-19.
One of BSNY's strengths and core aspect of its program model is its deep and wide-spread relationships with other non-profit partners across the city, which enables it to have wider reach and support a greater number of individuals from underserved communities. During the pandemic, the BSNY team has spent a significant amount of time re-engaging its workforce referral partners, sharing job opportunities and hosting virtual partnership events, including events focused on partners from specific geographies so BSNY can do a deeper dive on the jobs coming up in the neighborhoods they serve.
---
Read more Member Spotlights.
---