NYCETC is launching a Member Spotlight series in the NYC Workforce Weekly to introduce our readers to the wide variety of workforce programs and services that our members offer across the five boroughs. We are kicking this off by highlighting new members that have joined the Coalition in the last year. This week we introduce you to butterflyone.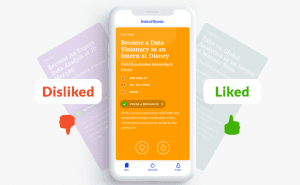 Launched in November, butterflyone is building a platform to democratize career success and robust professional networks via an app that gives learners an opportunity to access career coaching sessions and "white glove" curated job listings in a fun and reimagined environment. Or, as co-founder Jake Rosenfeld explains it, "think of it as Tinder for careers, aimed at giving opportunity to all learners." Learners can explore curated career opportunities, review job cards served to them based on their skills and experience, and organize a queue of job applications to apply to directly.
This spring, the team will be launching its marketplace to connect learners (starting with CUNY students) to industry professionals and executives across top companies – including Facebook, Google, EY and McKinsey – in order to help students design exciting, lucrative, and sustainable career paths. Part of this goal is achieved through introducing students to jobs in sectors such as tech and finance that they otherwise would have not seen themselves in or considered as potential options for themselves. By connecting students to mentors and role models within these sectors, and tailoring the job search and application process to students' needs, butterflyone opens up career pathways for thousands of students while broadening and diversifying the talent pipeline for companies across the city. This hands-on approach enables students to be inspired by the job application process rather than be overwhelmed by it. Though it is still in pilot mode, working directly with CUNY students to test and refine the app, butterflyone has served 30 students this year, connecting them to hundreds of internships and entry-level job opportunities.
If you are interested in becoming a "coach" or leveraging butterflyone to help students in your network, please feel free to fill out the team's form at butterflyone.co/coaches or reach out to Jake Rosenfeld at jake@butterflyone.co.
---
Read more Member Spotlights.
---