NYCETC's Member Spotlight series – which introduces our readers to the wide variety of workforce programs and services that our members offer across the five boroughs – is shifting to highlight the ways in which organizations have shifted their services to best support their clients and communities during the COVID pandemic and within the post-COVID economy. This week we focus on Emma's Torch.
Share your organization's responses to COVID with NYCETC by completing this form.
---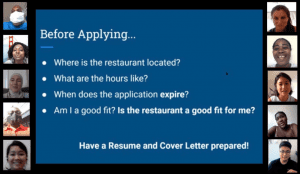 "I don't have the words to express how deeply grateful I am to all of you for giving us the opportunity to make these days of silence we've been forced into less dark. Thank you for the everyday support you've given us, with words, with orientation, with guides, with integration, truly, thank you." — Liliana, from Venezuela, Culinary Career Program Graduate, March 2020 cohort
---
Named in honor of Emma Lazarus – a staunch advocate for refugee rights whose poem, "The New Colossus," adorns the Statue of Liberty – Emma's Torch brings its namesake's advocacy into fruition by training refugees, asylees, and survivors of human trafficking in the culinary arts and empowering them to build meaningful careers in the culinary industry. As a non-profit social enterprise organization, Emma's Torch uses its culinary businesses – which include its flagship restaurant, cafe at the main branch of the Brooklyn Public Library and thriving catering business – to both fund, train and employ students in their growing culinary careers. Its primary program, the Culinary Training Program, consists of full-time paid training, during which students receive instruction, mentorship, and work experience; develop English conversation skills and other "soft skills" such as resume development and computer literacy; and receive ongoing job placement, career retention and advancement services upon graduation.
With the pandemic hitting face-to-face industries like restaurants and hospitality particularly hard – reflected in the fact that unemployment levels within the restaurant industry in August remained at 42% below what they were in February – Emma's Torch has had to be particularly innovative and flexible in its efforts to continue supporting its students and community. Since the crisis began, Emma's Torch has provided its students and alumni with over 100 hours of remote learning opportunities, one-on-one mentorship and counseling, access to food pantries, and guidance for applying for public assistance and emergency. With 70% of alumni and students finding themselves unemployed or furloughed, the organization has been very active in connecting its clients with unemployment benefits and emergency relief funds.
"While the last few months have been challenging, our students and graduates remain optimistic and hopeful. It is their drive to create community, and empower one another, that propels our work forward," said Kerry Brodie, Founder and Executive Director of Emma's Torch. "We feel fortunate to be a part of their journey, and to stand by their sides through this difficult time."
With COVID infection rates now at their lowest in New York, Emma's Torch plans to reopen in-person programming for its revamped 10 week and we will take on 4 students per month for full-time paid training in our revamped 10 week Culinary Training Program in mid-October 2020, with proper safety guidelines, protocols, and PPE. Its classroom restaurant will transform into a cafe location for food and drink pick-up and socially distanced outdoor dining. Its programs are also developing and producing special packaged food products for industry partners – and for subscription and per-order pick-up, including cooking kits and special meal options such as our CollaBox, ShabBox, and ET@Home concepts. Continuing its support of its local community in this time of need, Emma's Torch will be working with nonprofit partners to provide hundreds of meals weekly for delivery to families in need.
In response to lessons learned from the COVID shut down and its ramifications on the economy, restaurant industry and immigrant and refugee communities, Emma's Torch is developing an alumni advocacy and community building component to its online programming. This new program will have four thematic tracks – Workplace Behaviors, Conflict Resolution, Career Growth, and Community Organizing – all with attention paid to how COVID-19 affects each issue at hand. With urging from employment partners and its Culinary Council, Emma's Torch will also begin management-level training for selected program graduates through a new fellowship. Four promising alumni with at least 6 months of post-program employment experience will be selected each year to participate in the 6- month Leadership Development Fellowship, earning a stipend of $27,000. Each cohort will have one Fellow who learns Front-of-House operations and management and one who learns Back-of-House operations and management. After graduating from this advanced fellowship program, they will have the skills and work experience to qualify for management-level employment which can earn them an average of $65,000 annually to-start, with second year earnings averaging $75,000. Not only will the opportunity for an increase in salary and title be of benefit to these individuals and their families, having refugees in positions of expertise and authority can help to change the local community's perception of who they are, their worth, and their humanity. Learn more at emmastorch.org
---
Read more Member Spotlights.
---