NYCETC has launched a Member Spotlight series in the NYC Workforce Weekly to introduce our readers to the wide variety of workforce programs and services that our members offer across the five boroughs. We are kicking this off by highlighting new members that have joined the Coalition in the last year. This week we focus on the "I Have A Dream" Foundation – New York.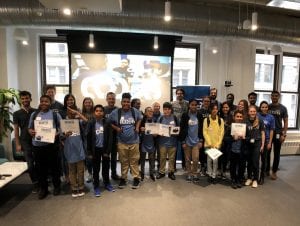 The mission of the "I Have A Dream" Foundation – New York (IHADNY) is to motivate and empower children living in low-income communities to reach their educational and career potentials by providing a long-term program of academic support, mentoring, enrichment, and tuition assistance for higher education and vocational training, from first grade to first job; so that they will ignite their innate potential and achieve their dreams.
IHADNY introduces and reinforces youth and leadership development throughout its programming. The foundation's goal is to transform young people into young adults with skills and behaviors that foster employability, build agency and self-efficacy through the incorporation of age-appropriate programming, mentorship, career exploration, internships and work experience. Program activities are designed to promote experiential learning, provide access to real-time work experience through connections with employer partners, broaden horizons and expand young people's professional networks. Students Participating in IHADNY – known as "Dreamers" – have high school graduation rates in the 90th percentile, much higher than their peers in NYC, and are three times more likely to enroll in, persist through and graduate from college. Dreamer alumni work in diverse industries including sports, media, international diplomacy, non-profit management and education.
IHADNY supports 350 dreamers each year through its programming, including two core workforce programs. The Capital One Coding program (photo above) trains middle and high school youth in coding and app design, positioning young people for an understanding of the tech sector so that they can make more informed decisions about their career interest in the STEM field. The Internship Work Experience Program places high school and college enrolled youth up to 24 years old in paid summer internships and an internship boot camp covering foundational skills such as resume writing and presentation skills. Employer partners for the internship program include the Elmezzi Foundation, Zone 126, and NYU CUSP.  
"As someone who has served women, families and youth my entire life, and as a former teacher and daughter of a Bronx public school principal, I am deeply committed to creating equity in education and providing access to opportunity for all New Yorkers," said Angela Williams, Executive Director of IHADNY. "We can never begin too early to build a foundation of lifelong learning and employability skills to inspire the next generation of curious, committed problem solvers by providing environments in which they can test, build and practice their leadership skills as they prepare to become productive adults and active members of their communities."
For more information and to partner with IHADNY, contact Angela Williams at awilliams@ihaveadreamny.org
---
Read more Member Spotlights.
---