NYCETC has launched a Member Spotlight series in the NYC Workforce Weekly to introduce our readers to the wide variety of workforce programs and services that our members offer across the five boroughs. We are kicking this off by highlighting new members that have joined the Coalition in the last year. This week we focus on the Institute for Justice and Opportunity at John Jay College of Criminal Justice.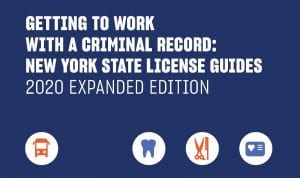 At the intersection of higher education, workforce development, and criminal justice reform, the Institute for Justice and Opportunity at John Jay College of Criminal Justice (formerly the Prisoner Reentry Institute) increases access to the workforce for people directly impacted by the criminal legal system, with a focus on career pathways in the human services. Across its education and workforce programs the Institute serves 1,000 people each year.
"All of us at the Institute for Justice and Opportunity are motivated to fight structural racism and remove the many barriers confronting people impacted by the criminal legal system," said Elena Sigman, Director of Collaborative Learning at the Institute. "Our goal as a member of the Coalition is to ensure that all workforce professionals — not just those at reentry organizations — have the information needed to serve people with conviction records.  We also want to work with providers across NYC to increase access to training and education that will help people with conviction records move into the workforce."
Last week, the Institute released its Getting to Work with a Criminal Record: New York State License Guides, which explain the process for obtaining licenses in 25 high-demand occupations and professions for people who have conviction records. They aim to dispel myths and misinformation that may discourage people with convictions from pursuing employment and career pathways that are actually available to them, and to encourage workforce professionals to support people with convictions in pursuing the jobs and careers they seek. A request for physical copies can be made here.
 
The Institute trains people impacted by the criminal legal system to become skilled practitioners to fill the growing number of jobs that value relevant life experience within criminal justice and reentry organizations, as well as across health, mental health, substance use recovery, education, and child welfare agencies. Its programs include: Navigator Certificate in Human Services & Community Justice; the Collective Leadership Supervisor Training; and Tech 101: Introduction to Technology for the Workplace. The Institute also builds capacity in the human services sector with nonprofit and government agency partners to develop and promote employees impacted by the criminal legal system into living wage jobs with benefits and meaningful career pathways. 
---
Read more Member Spotlights.
---