Recovery for All: A Vision for New York City's Equitable Economic Recovery
Executive Summary + Full Report + Press Release
In response to the growing crisis of unemployment and small business collapse in New York City as a result of the COVID-19 pandemic, over 80 leaders from the private and human services sectors have partnered as the NY Workforce Recovery Strategy Group to develop a recovery plan centered on small businesses and workforce development for displaced workers and marginalized communities. 
Sign up in support of the plan and join us in advocating for these recommendations in the coming months.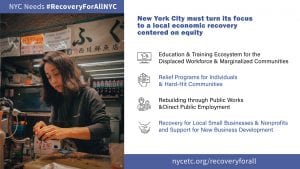 The recovery plan outlines specific policy and investment recommendations for City leadership to empower NYC communities and businesses that have been hardest hit by this pandemic and the systemic marginalization and disinvestment that existed prior to and has been compounded by the pandemic, while building the foundation of a 21st century local, interconnected and participatory economy that provides resiliency and well-being for all.
Together, this group of leaders and experts have developed recommendations urging the de Blasio administration to prioritize NYC's recovery efforts in the following areas:
Education & Training Ecosystem for the Displaced Workforce & Marginalized Communities 

Rebuilding through Public Works & Direct Public Employment

Relief Programs for Individuals & Hard-Hit Communities

Recovery for Local Small Businesses & Nonprofits and Support for New Business Development
A strategy focused on opportunity, equity, education and training is critical to reshaping New York City's economy to create healthier communities, more skilled workers, deeper talent pools, and a more resilient business climate. The recent weeks of peaceful protests over the current and historically unequal treatment of Black and Brown people by institutions and systems of power have made it abundantly clear that New Yorkers want a society and economy that proactively works to build up the many, not the few.