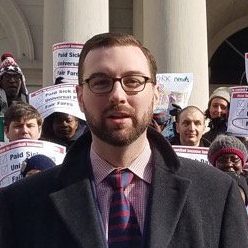 Jesse Laymon is the Director of Policy and Advocacy for the New York City Employment and Training Coalition. In this capacity, Jesse facilitates the Coalition board's Policy Committee, and its monthly Coalition Member Advocacy meetings, where the NYCETC formulates its strategy for promoting workforce development in New York City, and uses this to help inform his frequent meetings with policy officials at all levels of city government, including when testifying before the City Council. Jesse has been quoted in the New York Daily News and New York Times, and being published on several Opinion pages in outlets such as Crain's New York Business. 
Prior to joining the Employment and Training Coalition in 2016, Jesse had a wealth of experience in issue advocacy, having worked in government, on electoral campaigns and for a variety of public interest organizations. His recent experience in New York City and State includes having been the downstate director of Citizen Action of New York, the campaign manager for the Fair Elections for NY reform effort, and work as a consultant on the deBlasio Administration's efforts to respond to the City's homelessness crisis. His time in politics has brought him to Iowa for a Caucus, to New Hampshire for a Primary, and to Alabama for a Special Election.
He lives in Queens with his wife Vicki.