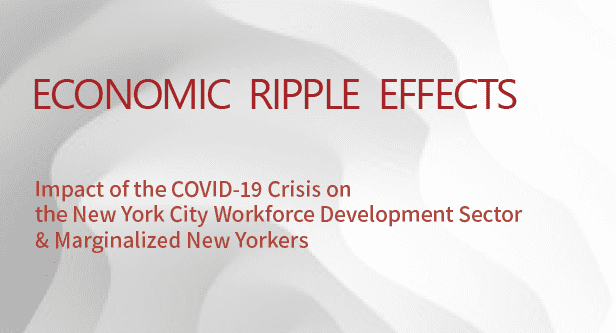 Press Release
Contact: Jose Ortiz, Jr., Executive Director of the NYC Employment & Training Coalition, jortiz@nycetc.org, 646.203.4636
---
For Immediate Release
May 06, 2020
Contacts
Human Services Council: Charles Kretchmer Lutvak, charles@risaheller.com, 917-748-3096
NYC Employment & Training Coalition: Jose Ortiz, jortiz@nycetc.org, 646-203-4636
NEW DATA: CRISIS IN WORKFORCE TRAINING THREATENS COVID RECOVERY
As need for workforce development grows, budget cuts present providers with existential challenges that would disproportionately harm people of color
READ: NYCETC's report, HSC's two briefs
NEW YORK – The need for workforce training is growing rapidly across New York City, but the organizations that provide these services are facing existential financial challenges that could hamper the city's economic recovery from COVID-19, according to new data released today by the NYC Employment and Training Coalition (NYCETC) and the Human Services Council (HSC) based on surveys of their collective memberships in partnership with HR&A Advisors.
While human services organizations and workers are on the front lines of the city's emergency response to COVID-19, providing critical support for young, elderly, and homeless New Yorkers, workforce development will be central to the initial reopening and longer-term revitalization of the city's economy as New Yorkers – including over 1 million who have recently lost their jobs – begin to look for jobs and potentially seek new skills to adapt to a changing economic landscape.
"New York's economic future rests on these organizations and the services they provide, full stop," said Michelle Jackson, Acting Executive Director of the Human Services Council. "Cuts might help balance the budget today, but they will stifle our efforts to put New Yorkers back to work and get our economy moving again in the weeks, months, and even years to come. Now is the time to invest in New Yorkers. We simply cannot afford to be shortsighted when the future of our economy is at stake."
"The future of work is now. We have a responsibility to empower the hundreds of thousands of low-income and marginalized New Yorkers that are reeling from the double shock of a health and unemployment crisis that is compounded by generational poverty and disinvestment, placing them at a significant disadvantage in their efforts to access jobs," said Jose Ortiz, Jr., Executive Director of the NYC Employment and Training Coalition. "In order to support New Yorkers and businesses through the biggest economic challenge of their lifetime, workforce development organizations require equal support, partnership and innovation from public and private partners. Anything less will mean the permanent shuttering of essential employment and training services that will further slide our communities into economic inequality and shut them out of the post-COVID economy."
Key takeaways from the data:
Significant impacts expected on services

: Nearly two-thirds (64%) of organizations predict program reductions and permanent shutdowns, and even more (70%) predict staff layoffs, which would compound the city's unemployment crisis.

Unequal impact

: Workforce training program clients are overwhelmingly (89%) people of color, following the trend of job losses largely (68%) affecting people of color.

With help, nonprofits can adapt

: Three-quarters (75%) of organizations are providing different services in light of COVID-19 or could do so, but fewer than half (48%) already have access to online learning software.

As largely-government-funded workforce organizations prepare to take center stage in the economic recovery, they face existential short- and long-term threats from FY2021 budget at the state and city levels, compounded by years of under- and unpaid government contracts that could force organizations to cut programming, lay off staff, and even shut down. The loss of these nonprofits would disproportionately harm communities of color, who have been hit particularly hard by COVID-19 and could be left behind by the recovery.

Workforce development organizations can adapt and pivot to respond to changes in the labor market if given the resources and flexibility. HSC, NYCETC, and 208 other organizations are calling for a comprehensive Human Services Relief Package from the State and City to ensure the long-term viability of these organizations and availability of their services. NYCETC and HSC are also participating in the NYCETC-launched NY Workforce Recovery Strategy Group, a group of public and private sector leaders partnering to identify policy solutions to the current economic challenges.
See the report findings in this Politico article.
###
The Human Services Council (HSC) is a membership organization representing over 170 nonprofit human service providers in New York State.
The New York City Employment and Training Coalition (NYCETC) supports the workforce & economic development community to ensure that every New Yorker has access to the skills, training & education needed to thrive in the local economy, and that every business is able to maintain a highly skilled workforce.