5 Industries with NYC Job Declines Much Greater than Nationally
This is the first installment of a regular NYC Workforce Weekly COVID-19 Economic Update prepared by economist James Parrott of the Center for New York City Affairs (CNYCA) at The New School. COVID-19 Economic Updates will appear every other week.
---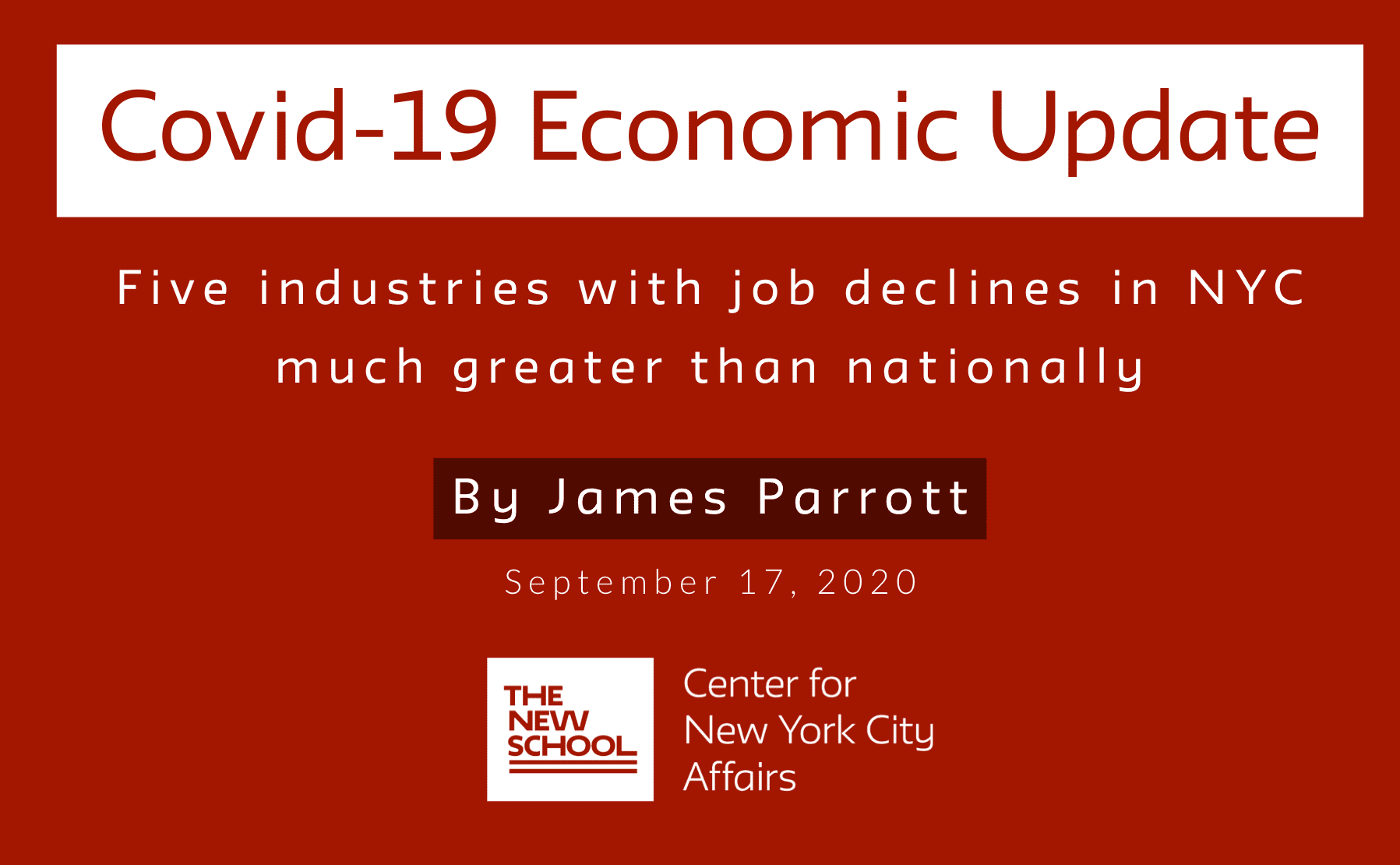 ---
3 prominent takeaways of the COVID-19 economic impact in NYC at 6 months
The job and business impact is tremendously lop-sided, hitting hardest at lower-paying face-to-face service industries, and largely sparing high-paying industries like finance, tech, corporate headquarters, information, and professional services. As of July, 69% of jobs lost were in the face-to-face industries, 22% in essential industries and 10% in remote industries.
69% of the jobs lost have hit workers of color, 76% of the affected workers held jobs paying less than $60,000 a year pre-pandemic, and dislocation has disproportionately hit young adults, immigrants, and those without a college degree.
As of mid-August, more than 1.5 million NYC residents (wage workers plus self-employed and independent contractors) were out of work and receiving unemployment insurance. Relative to the city's pre-pandemic labor force, this would mean an unemployment rate of over 35%.
5 industries with NYC job declines much greater than nationally
July data showed that NYC's payroll job decline was 16.1% compared to February, twice the 7.9% job decline for the U.S. as a whole (see chart below) There are two main reasons why the jobs impact has been much greater in NYC: 1) the early outbreak of the virus in NYC (because of our European connection) resulted in greater caution regarding relaxing public health restrictions that have limited business activity; and 2) the city's reliance on tourism, the arts and 1.2 million Manhattan office workers has meant that face-to-face service jobs have been harder hit in NYC.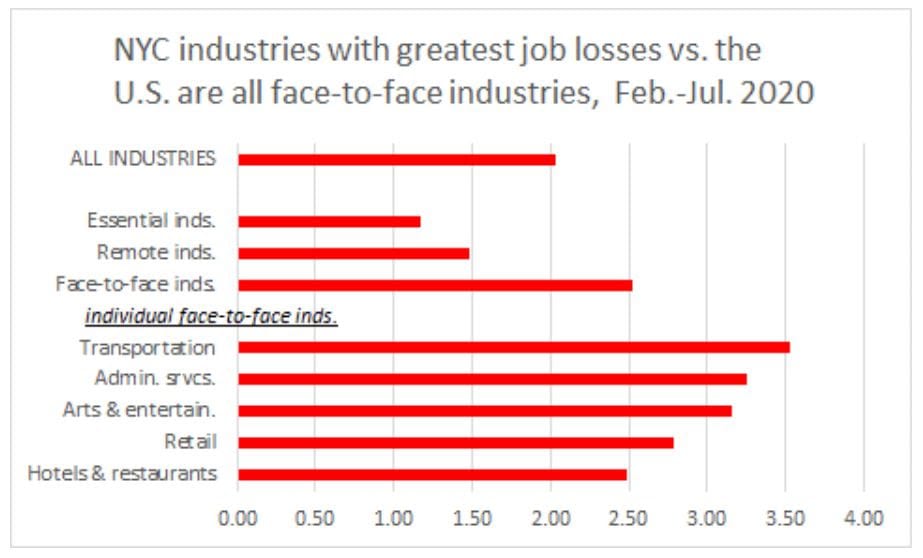 How to read this chart: 1.00 means NYC job decline the same as U.S.; 2.00 means NYC job decline twice that of U.S. See CNYCA reports for description of essential, remote and face-to-face industries.
Tourism has been shut down by COVID across the U.S. but the sector had grown rapidly in NYC over the past decade as the city welcomed more tourists than any other locale in the nation. The absence of tourists has cut deeply into hotel, restaurant, ground and air transportation employment. COVID restrictions have effectively shut down most jobs in NYC's arts and entertainment industry, where the city's pre-pandemic job total was the second largest in the nation behind Los Angeles. While most Manhattan office workers in the "remote" industries of finance, tech and professional services still have their jobs, the fact that they're working remotely has reduced the need for thousands of building service workers in Manhattan, a job category that's part of the administrative and support services industry. This industry group also includes temp workers, the demand for which has sharply contracted. Not surprisingly, the absence of a million Manhattan office workers (including many suburban commuters) daily and millions of tourists and theater-goers has meant many fewer restaurant and retail customers, and jobs.
The five industries shown in the bottom half of the chart shed jobs at a rate 2.5 to 3.5 times as great as these industries nationally and accounted for more than half of NYC's payroll job decline as of July. Together, these five industries account for nearly two-thirds of NYC's disproportionately large job loss figures. For more information, read CNYCA's three reports on the NYC economic impact of COVID-19.
---