Initial unemployment claims rose over the past three months
COVID-19 Economic Update is a bi-weekly column prepared by economist James Parrott of the Center for New York City Affairs (CNYCA) at The New School, whose research is supported by the Consortium for Worker Education and the 21st Century ILGWU Heritage Fund. Read past installments here.
---
Reflecting the stalled recovery and the effects of the second Covid-19 wave on business activity, initial unemployment insurance (UI) claims filed by New York City residents have been rising over the past three months. To smooth the choppy nature of the weekly level of new claims, the chart below shows the four-week moving average for both the regular State UI program and the Pandemic Unemployment Assistance (PUA) program that provides benefits to workers not qualifying for the regular program, including the self-employed and independent contractors.
The rise in the Covid-19 case rate since mid-October has been followed by an uptick in initial UI claims in New York City: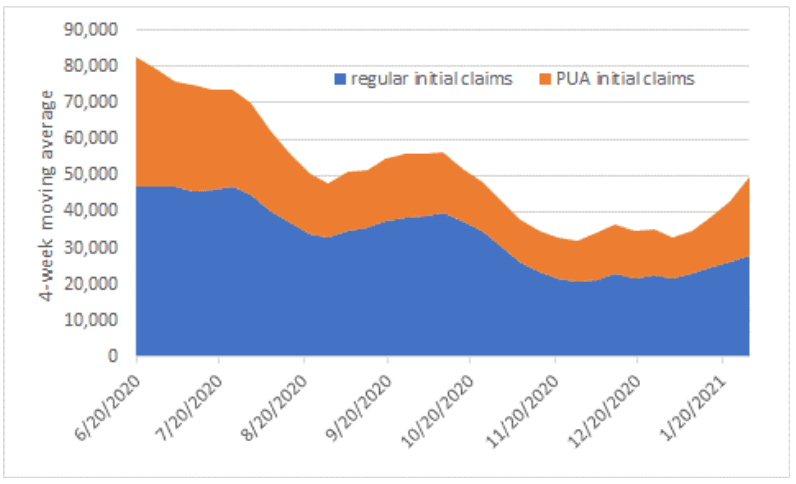 Combining both UI programs, the four-week average for the last week in January was 49,400, more than 50 percent greater than for the last week in November. It's not unusual for there to be a spike in new claims in early January, as workers who were hired in November and early December for the holiday season are let go. Last month, however, new claims rose again in the latter part of the month, and in the case of PUA claims, the increase amounted to a surge. For new regular UI claims, the January 2021 level was three-and-a-half times the average of January 2019 and January 2020.
The PUA program was extended through March 11 by the federal economic relief package adopted in late December. In addition, a $300 federally funded weekly supplement for all UI recipients was enacted as part of that measure. President Biden's proposed $1.9 trillion economic package includes a further extension of the pandemic UI programs through the end of September.
As of late January, there was a total of 2.6 million New York State residents receiving some form of UI benefits, with New York City residents comprising about half that number. Total UI benefits paid in New York City rose to $2.8 billion in January, nearly twice the $1.5 billion monthly payouts in November and the $1.5 billion in December. The peak months for UI payments to city residents were last June and July when the $600 weekly UI supplements enacted as part of the March 2020 federal CARES Act were in effect. Total benefits paid in New York City averaged $7 billion for each of those two months. Of the $2.8 billion in payments this January, 90 percent was federally funded.
---