Six nonprofit industry leaders will serve on NYCETC's Board of Directors to shape and lead the future of inclusive workforce development in New York
---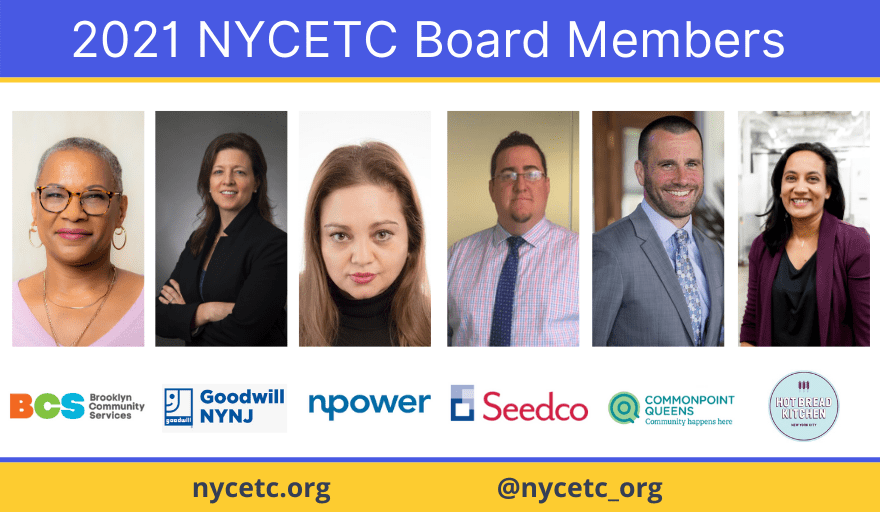 NEW YORK, NY – (February 22, 2021) – The New York City Employment and Training Coalition (NYCETC), the nation's largest city-based membership association for the workforce development industry, has announced six new leadership additions to its Board of Directors. Effective immediately, the following new members will join a roster of 29 executives, advocates, and leaders to steer NYCETC's mission and strategic goals:
Katy Gaul-Stigge is President and CEO of Goodwill Industries of Greater New York and Northern New Jersey, Inc.,

one of a national network of 155 nonprofit organizations serving individuals with disabilities and other barriers to connect to employment, and oversees the operations of 64 Goodwill NYNJ programs and 23 retail locations. Gaul-Stigge also oversees the recently launched bridge pathway pilot to prepare job-seekers for advanced technology training programs.

Shaolee Sen, CEO of Hot Bread Kitchen,

works to directly impact New York's culturally and economically diverse workforce of women and food entrepreneurs. Prior to Hot Bread Kitchen, Sen served as the Executive Vice President for Accion in the U.S., developing new programming and collaborative opportunities for a network of non-profit small business lending institutions to find scalable solutions for affecting economic development.

Greg Rideout, Chief Program Officer of Commonpoint Queens,

has over 20 years of direct service and managerial experience in NYC nonprofits. In his current role, Rideout has overseen the merger of two Queens-based agencies into the recently renamed Commonpoint Queens, as well as the development of the agency's newest flagship location, a 9,600 square foot Employment Services Hub in partnership with the United Jewish Federation of New York.

Helen Kogan, Executive Director of NPower,

oversees strategic partnerships, advocacy, development, and high-level program administration for NPower which provides free tech training to military veterans and young adults from under-served communities. Before NPower, Kogan honed her workforce development skills as Director of Career Services at three colleges in New York.

Janelle Farris, President and Executive Director of Brooklyn Community Services

, in which she is responsible for evolving BCS through the modernization of internal systems, updating program models and amplifying the agency's commitment to social justice and inclusion. Farris previously worked at Pratt Center for Community Development and has a Post Master's Certificate in Organization Development from The New School for Social Engagement.

Keith B. Rasmussen, Executive Director of Seedco,

leads all of Seedco's program and community development work across the country, spanning the organization's Workforce Development and Work and Family Supports program portfolios. Before joining Seedco in 2012, Rasmussen held leadership positions at ResCare, Goldman Sachs and Deloitte & Touche.
"We are thrilled to welcome Greg, Helen, Janelle, Keith, Katy and Shaolee to the NYCETC Board of Directors. All six individuals exemplify an outstanding commitment to New York and its workforce community," said Jose Ortiz, Jr., CEO of the New York City Employment and Training Coalition. "As New Yorkers continue to change and adapt to the impacts of the pandemic, so must our leadership. The new Board members bring experiences and invaluable insight to guide NYCETC's response to the pandemic and inform an agenda for inclusive economic recovery for all New Yorkers."
"As Board Chair of NYCETC, I have the privilege of welcoming NYCETC's newest class of Board members to our community. I am grateful for their demonstrated enthusiasm, leadership, and support of NYCETC's mission and programs to bolster workforce development across our City," said Kathleen Culhane, Board Chair of the NYCETC Board of Directors. "The six new leaders are needed now more than ever to advocate for an equitable recovery as our City perseveres through the pandemic. I look forward to working with NYCETC's newest Board members under Jose's leadership."
"I am honored to join the Board for NYCETC, this organization's work is critical now more than ever," said Katy Gaul Stigge, CEO of Goodwill NYNJ. "I look forward to working with the member organization to find solutions to the critical issues in workforce development – the effects of COVID causing high unemployment, a stark digital divide and need for effective job training."
"NYCETC sits at the nexus of the private and public partnerships that will be necessary to drive financial stability, economic mobility and an equitable recovery for all New Yorkers," said Shaolee Sen, CEO of Hot Bread Kitchen. "I am honored to support that work with my experience in human-centered program design, partnership building and the food space, an industry that will be critical as we move forward to advance positive change for working people."
"I am thrilled to be joining this esteemed group of workforce leaders who serve on the Board of Directors, in partnership with CEO Jose Ortiz Jr. and his incredible staff," said Greg Rideout, CEO of Commonpoint Queens. "I look forward to the opportunity to contribute to the critical work this organization will do to support New York City's economic recovery and development, with a grave focus on greater equity and economic well being for all New Yorkers."
"I am deeply honored to serve on the Board of the NYCETC. As a first-generation American, I appreciate the challenges and opportunities afforded me in finding my own path to success," said Helen Kogan, Executive Director of NPower. "I look forward to joining this coalition of thought-leaders in providing inclusivity and clear pathways for all New Yorkers to succeed in our digital economy.
"I am excited to have the opportunity to be a part of the effort to build a stronger workforce development system," said Janelle Farris, President and Executive Director of Brooklyn Community Services. "NYC is only as strong as our workforce, and we must be prepared not only for the current climate, but the technology based future as well."
"As NYCETC continues to serve and deliver on its mission to support the workforce and economic development community in NY, I am excited as a born and raised New Yorker and a committed new board member to help the coalition evolve and grow as it meets the demands of the field and the communities we all serve," said Keith B. Rasmussen, Executive Director of Seedco.
Founded in 1997, NYCETC is the voice of New York's workforce development community. NYCETC works to ensure that every New Yorker — especially those who have been historically marginalized and disenfranchised and cut off from workforce opportunities — has access to the skills, training, and education needed to thrive in the local economy, and that every business is able to maintain a highly skilled workforce. Its 190 members create jobs and connect underserved New Yorkers — primarily New Yorkers of color, New Yorkers with low- or moderate-incomes, New Yorkers with multiple barriers to employment, and New Yorkers who have been left out of the growing economy due to systemic and historic marginalization — to opportunities so they can support their families and give back to their communities.
NYCETC, in coalition with ANHD and RPA, recently announced the selection of a 20-person steering committee to develop an agenda for inclusive economic growth across New York City. More information on NYCIGI can be found here: https://inclusivegrowth.nyc.
---