Job market behavior in a pandemic—no easy answers
COVID-19 Economic Update is a bi-weekly column prepared by economist James Parrott of the Center for New York City Affairs (CNYCA) at The New School, whose research is supported by the Consortium for Worker Education and the 21st Century ILGWU Heritage Fund. Read past installments here.
---
We've all seen the "Help Wanted" signs in the windows of our neighborhood businesses. It's a reassuring sign that business is coming back, and that our sequestered days might be waning. On the other hand, how can it be that jobs are going unfilled when we know that three-quarters of a million New Yorkers are jobless or have exited the labor market over the past year?
Many businesses are right to ask whether the extra $300 in weekly unemployment benefits available through September 6 is keeping workers home. But as journalist Greg David noted in a recent article in The City on this issue, "it's complicated." David cited a recent Brooklyn Chamber of Commerce survey in which 42 percent of businesses felt that federal unemployment benefits were discouraging return to work. Yet, the Brooklyn survey, according to a report in the Post, also found that 41 percent of businesses said they couldn't provide enough hours to employees, 28 percent said employees had moved on to other jobs, workers had safety concerns in 12 percent of the cases, and employee health issues were cited by five percent of businesses. And several businesses also noted that lack of child care was keeping some workers home.
Clearly, a multiplicity of factors is influencing job market behavior as pandemic business restrictions are eased, Covid case rates decline, and vaccinations become more widespread. It is not so clear cut that unemployment benefits are the primary cause for some jobs going unfilled, although the availability of benefits likely does make it possible for many of the unemployed to exercise greater latitude in making decisions in the best interests of their families, personal health, and career choices. But isn't that appropriate considering that the unemployed lost their jobs due to a public health emergency not of their making, and that the pandemic has upended livelihoods and family circumstances for millions?
Beyond survey perceptions there are various economic indicators that reinforce the notion that there are no simple or easy answers on this question. Even though an earlier $600 weekly federal unemployment supplement ended at the beginning of August last summer, there was no local job surge in ensuing months. Rather, the second wave of Covid infections beginning in October kept the city's overall job level flat for several months. Jobs didn't start to rebound strongly until February and March (NYC added 90,000 jobs over those two months), even though the new $300 weekly federal supplement began in early January.
Employment in restaurants—where unfilled job openings are most common—rebounded some in the fall, fell off again during the winter, and started hiring again in February. This erratic pattern may have signaled an instability that deterred workers from returning. (April payroll data for New York City will be released on May 20.)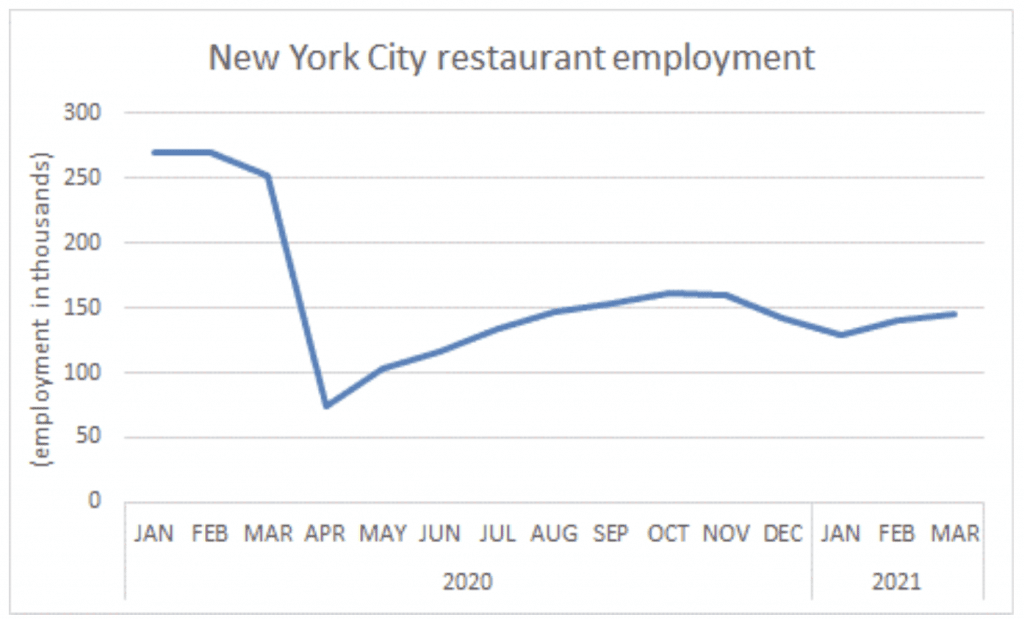 The fact that employment in child care centers has not risen appreciably since November also supports the notion that the lack of child care capacity has been preventing some parents from returning to work. The March 2021 employment level was still 21 percent below the pre-pandemic level, and there was a severe crisis in child care accessibility and affordability before the pandemic. The very slow pace with which the State has been moving to disburse emergency federal child care funding has further exacerbated the child care situation.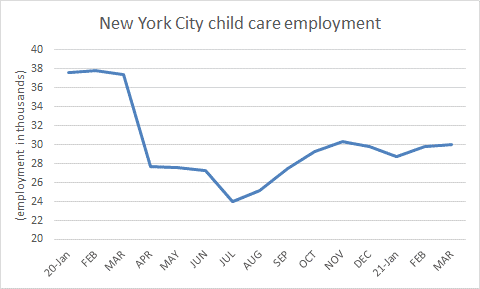 Since most neighborhood businesses are not back to full capacity, many are not able to offer their employees full-time schedules. Unlike other states, New York State's partial unemployment system is particularly antiquated and confusing for workers to navigate. There are "cliff effects" as the figure below indicates, where an additional hour of part-time work can dramatically reduce partial unemployment benefits, unduly complicating a worker's decision about returning to work part-time. State legislators and the governor have had proposals to remedy the problem since January but have not yet reached agreement on a resolution. Meanwhile, an estimated 25 percent of the two million-plus UI recipients in New York State are receiving partial benefits.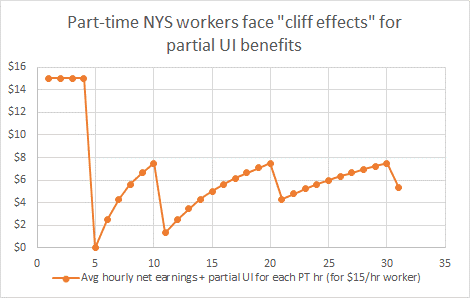 Several news reports indicate that some restaurant businesses have raised pay offers or enhanced benefits to attract workers back. That is what labor economists would expect to happen when recruitment problems persist. The need for higher pay is particularly warranted given that New York State pay regulations permit a "subminimum wage" for tipped restaurant workers of $10 an hour whereas the wage floor for most New York City workers has been $15 since the beginning of 2019. Since most restaurants are far below pre-pandemic business levels, tips are likely a fraction of what they previously were.
---