NYC job rebound led by restaurants, private universities and home health care
COVID-19 Economic Update is a bi-weekly column prepared by economist James Parrott of the Center for New York City Affairs (CNYCA) at The New School, whose research is supported by the Consortium for Worker Education and the 21st Century ILGWU Heritage Fund. Read past installments here.
---
April was the third consecutive month of jobs rebounding in New York City after a hiatus of four months of stagnation related to the late-2020 surge in Covid-19 cases. The pace of January-to-April job gains in New York City and the rest of the state surpassed the national rate for those months. Two-thirds of the city's 122,000 job gain over this period came in the hard-hit Face-to-Face industry category, let by restaurants (+39,100), private universities (+16,600), temporary employment agencies (+10,500), and arts, entertainment, and recreation (+8,200).
Professional services registered a 11,600 job gain for the months of February, March and April, with the computer systems industry leading the way with a gain of 3,700 jobs. Home health care paced the health care industry job gains with a 10,500 increase.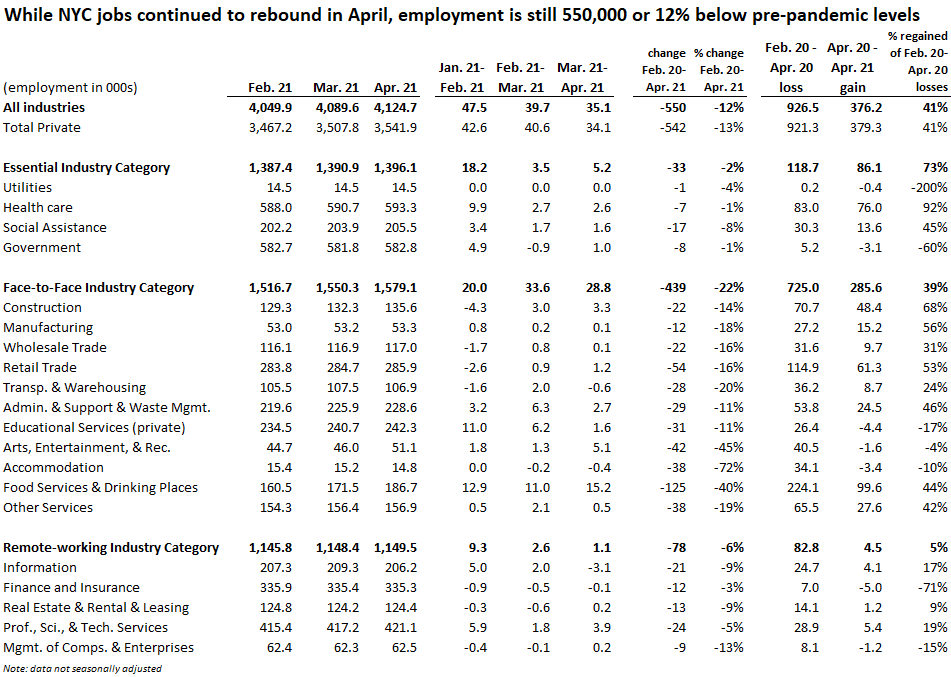 As of April, New York City's total job level was still 550,000 (12 percent) below the pre-pandemic level from February 2020. The city has gained back only 41 percent of the job decline suffered last spring at the height of the pandemic in New York. All of the industries within the Face-to-Face category are still down by double-digit percentages, with accommodation (hotels) topping the list with April jobs holding at 72 percent below the early 2020 level. Employment in the arts, entertainment, and recreation sector was still down by 45 percent, and despite the 39,000 gain over the past three months, the number of jobs in food services and drinking places was still 125,000 (40 percent) lower than in February of 2020.
New unemployment claims declining but many still receiving benefits
Statewide, new filings for unemployment insurance declined sharply in May to a little over 20,000 per week, down by half or more from the winter months. While reflecting the improved economic outlook, the 20,000 weekly statewide level is still about twice the level for the comparable weeks in 2019. (Without explanation, the State Labor Department stopped reporting initial unemployment claims for New York City in late March.)
Twenty-three states have recently halted payments of the federally-funded $300 weekly supplemental unemployment insurance benefit. While New York continues to pay the federal supplement, there has been a sharp reduction in the number of initial filings for Pandemic Unemployment Assistance (PUA), a federally-funded benefit provided to the self-employed, independent contractors and others not qualifying for regular state unemployment insurance. From a statewide average of over 32,000 initial claims for PUA benefits for the six months through late March, new PUA claims abruptly fell by nearly 90 percent for the last week in March and have remained 90 percent below the October-March average in the nine weeks since then. The precipitous falloff in new PUA claims is far greater than the gradual reduction in new claims for regular state unemployment insurance over that period.
As of mid-May, 2.2 million New York state workers were receiving one form or another of unemployment benefits. This number is about a half million below the average for mid-January through mid-March. The late-December federal stimulus bill and the American Rescue Plan (signed by President Biden on March 11) extended PUA benefits for a maximum of 57 weeks. Thus, individuals who were first qualified for those benefits in late April of 2020 reached the 57-week mark recently so we likely will see a steady decline in the unemployment benefit rolls in coming weeks. New York workers qualifying for regular unemployment insurance are eligible to receive benefits for a maximum of 70 weeks. Those unemployed early in the pandemic will start to exhaust benefits in mid-to-late July. The $300 federally-funded weekly supplemental benefit will expire for all workers on September 6.
---