Essential and remote-working industry jobs surpass pre-pandemic levels, while employment in face-to-face industries lags by more than nine percent
COVID-19 Economic Update is part of a regular biweekly Covid-19 Economic Update series. This week's update was prepared by Emil Mella Pablo, Assistant Director for Economic Policy at the Center for New York City Affairs at The New School. Read past installments here.
---
Employment in New York City continues its slow recovery from its early pandemic lows, even as the national economy has now fully restored its pre-pandemic employment level. There were still 162,000 (or 3.4 percent) fewer total nonfarm jobs in the Big Apple in July 2022 than in February 2020.
The national unemployment rate edged up to 3.7 percent in August from 3.5 percent in July, as the size of the labor force rose faster than payroll jobs. Still, for the past five months the U.S. has added an average of 366,000 private jobs, a reasonably strong 0.3 percent monthly pace in the face of the Federal Reserve's efforts since mid-March to cool the labor market. From March through July (NYC employment data for August will be released on September 15th), New York City has added an average of 25,100 jobs per month, a pace twice that of the U.S. as a whole.
Looking at employment at the industry level can help us understand what's stopping the city from surpassing its pre-pandemic jobs levels.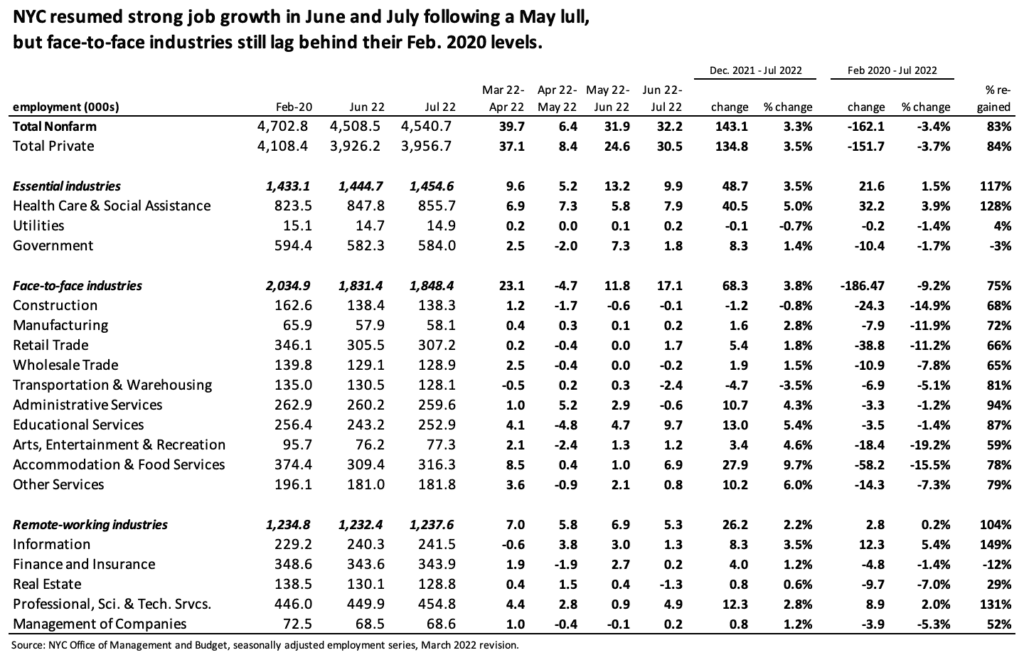 As the above table shows, total nonfarm employment has increased by 143,100 (a 3.3 percent increase) from December 2021 through July 2022 on a seasonally adjusted basis.
Half of the city's net job gain so far this year has come in the face-to-face industries that were hardest hit by the pandemic. These gains were led by Accommodation & Food Services (+27,900 jobs), private Educational Services (+13,000 jobs), Administrative Services (+10,700 jobs), and Other Services (+10,200 jobs). Retail Trade, the second-largest employer in the face-to-face industries, has added back only 5,400 jobs so far in 2022. Both Construction and the Transportation and Warehousing sector have lost jobs in 2022 on a seasonally adjusted basis.
Job growth in home health care services has paced the 40,500-job increase in Health Care and Social Assistance employment through the first seven months of 2022. The only other industry not in the face-to-face category that has matched or exceeded the city's overall 3.3 percent nonfarm job gain in 2022 is finance and insurance, where an 8,300-job gain translates into a 3.5 percent gain for the year to date.
At this point in Covid-19's wake, both the essential (+1.5 percent) and the remote-working (+0.2 percent) categories have regained pre-pandemic employment levels. On the other hand, the face-to-face set of industries is still 9.2 percent below the February 2020 level. Five of these industries are down by double-digits, with Arts and Entertainment with 19.2 percent fewer jobs, Accommodation and Food Services down by 15.5 percent, Construction off by 14.9 percent, Manufacturing employment 11.9 percent less, and Retail with 11.2 percent fewer jobs than in February 2020.
The graph below depicts employment in the three industry groups we've been tracking since the start of the pandemic. Jobs in remote-working and essential industries surpassed their pre-pandemic levels in May and July respectively, while employment in face-to-face industries remains 186,500 jobs short of where it was in February 2020.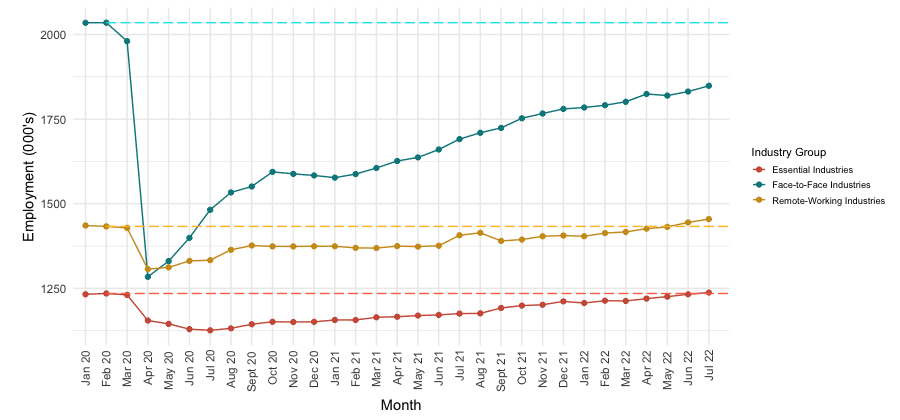 While essential and remote-working industries also experienced a strong downturn at the outset of the pandemic, face-to-face jobs were nothing short of devastated – an inevitable result of both stay-at-home mandates and a pandemic-induced decrease in demand for businesses that conduct their work "face to face." In February 2020, over two million New Yorkers worked in face-to-face industries, a number that plummeted to just under 1.3 million by April 2020 – a loss of over 750,000 jobs in two months.
Since then, face-to-face industries have recovered a much larger number of workers (over half a million) than either other industry group. Nevertheless, they still lag in their recovery as a result of being both the largest employer of the three groups and the most impacted by early pandemic job losses. Jobs in many face-to-face industries are still likeliest to be impacted by the ongoing spread of Covid-19, and many businesses in hospitality and retail still suffer, both because tourism activity lags pre-pandemic levels and also because there has been a very partial return-to-work in Manhattan offices.
With Labor Day weekend just behind us, it's important to recognize not only the hardship faced by the face-to-face industries, but by the workers dislocated from them, who were already likelier to be low-paid and have fewer employer-provided benefits than most workers in essential or remote-working industries. These workers also tend to be younger and less-educated, adding to the reasons why public policy should prioritize assisting these workers in gaining access to better jobs with greater career advancement opportunities.