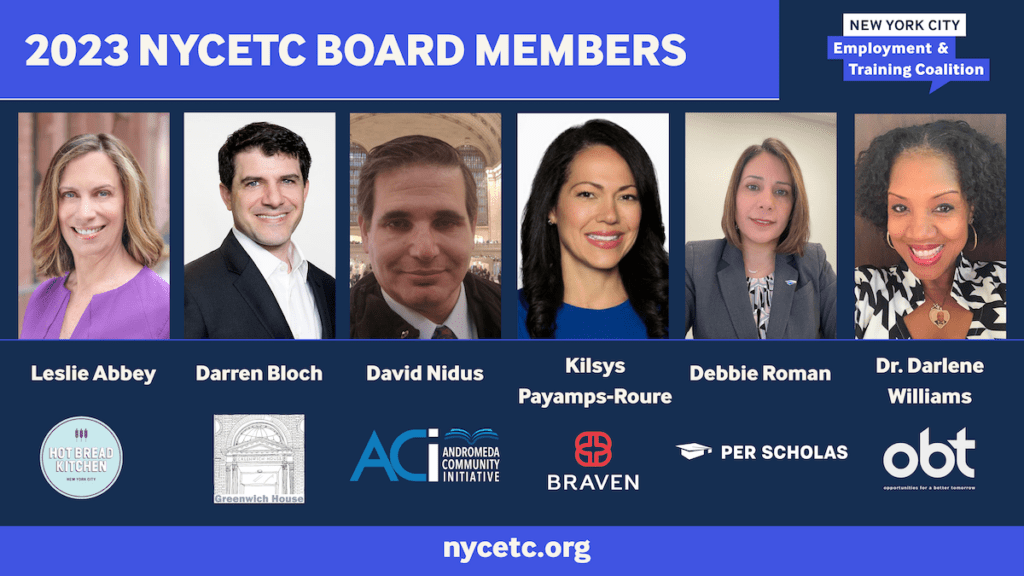 New York, NY – (April 12, 2023) — The Board of Directors of the New York City Employment and Training Coalition (NYCETC) voted in six new Board Members. These new members represent workforce development organizations and neighborhood service providers, each offering job readiness, reskilling, and upskilling in support of New Yorkers who have been pushed out of the job market, especially young adults and older adults. They also provide career training and mentorship for New Yorkers who have historically and systemically not had access to education and employment opportunities, including New Yorkers from economically disadvantaged communities and immigrants.
On the appointments, Gregory J Morris, CEO, NYCETC said "We're thrilled to welcome this new class of board members, and are excited for the perspectives they'll share as we advance our critical mission to increase access to quality jobs. To ensure an equitable and inclusive recovery, we need to raise wages now while we invest in the intersection of workforce development and economic development across the City. Our new board members understand the way forward because they are the ones putting New Yorkers to work in every neighborhood – in every growing industry option."
Join NYCETC in welcoming their new Board Members:
"As Board Chair of NYCETC, I am proud to welcome NYCETC's newest class of Board members," said Kathleen Culhane, Board Chair of the NYCETC Board of Directors. "As President of Nontraditional Employment for Women (NEW), I know firsthand that diversifying our workforce means more career opportunities for everyone and a stronger economy for our City. These new leaders will be integral to the success of NYCETC's goals of investing in workers and workforce development for New York—and I look forward to working with them."
"NYCETC has been at the forefront of ensuring that people across New York have access to jobs and workforce training," said Leslie Abbey, CEO, Hot Bread Kitchen. "Together, we can build a more equitable economy—and I am honored to join its board and do my part to achieve this goal."
"I'm honored to join this amazing group of thinkers and doers working to advance a high-functioning workforce ecosystem that better supports New Yorkers and NYC employers," said Darren Bloch, CEO, Greenwich House. "If we want to build a more resilient and more just economy, we need to increase and sustain investments in our people and systems —our communities and City deserve nothing less.
"I look forward to working alongside NYCETC as a board member," said David Nidus, Executive Director, Andromeda Community Initiative. "This work is critical to expanding our workforce and ensuring people have access to the training and development opportunities they need in industries across the city—and we want to make sure our work reaches every New Yorker who needs it."
"People of color and marginalized communities across the city are underrepresented in our workforce, and in order to build a strong economy, that must change immediately," said Kilsys Payamps-Roure, Founding Executive Director, Braven in New York City. "That's why NYCETC's work is so vital to the future of our city—and why I'm so excited to get to work as a board member."
"I am thrilled to join the NYCETC board and work towards a stronger New York," said Debbie Roman, Managing Director, Per Scholas. "We need to invest in the people traditionally locked out of our economic system—and in doing so, we can build an economy that works for everyone."
"Economic recovery can only happen by investing in underserved communities," said Dr. Darlene Williams, President and CEO, Opportunities for a Better Tomorrow (OBT). "This has been a centerpiece of my work at Opportunities for a Better Tomorrow—and I am so thrilled to continue this work as a board member for NYCETC."
###
About the New York City Employment and Training Coalition (NYCETC)
The NYC Employment & Training Coalition (NYCETC) works to ensure that every New Yorker — especially those who have been historically marginalized and disenfranchised and cut off from workforce opportunities — has access to the skills, training, and education needed to thrive in the local economy, and that every business is able to maintain a highly skilled workforce.