Editor's note: This feature was originally included in NYCETC's NYC Workforce Weekly newsletter, which is delivered free to subscribers' inboxes every Wednesday with trends and top stories about workforce development in New York City. Subscribe here.
---
On May 10, the New York City Council Committees on Finance and Youth Services held a joint hearing on the proposed budget for the Department of Youth and Community Development (DYCD) for Fiscal Year 2024 (FY 2024). The City's Executive Financial Plan, released late last month, allocates $1.15 billion for the agency, a substantial increase from the $943 million proposed in the Preliminary Financial Plan, released in January. Almost all of that growth, however, is the result of the Adams administration's decision to shift the Office of Neighborhood Safety, previously a unit of the Mayor's Office of Criminal Justice, into DYCD.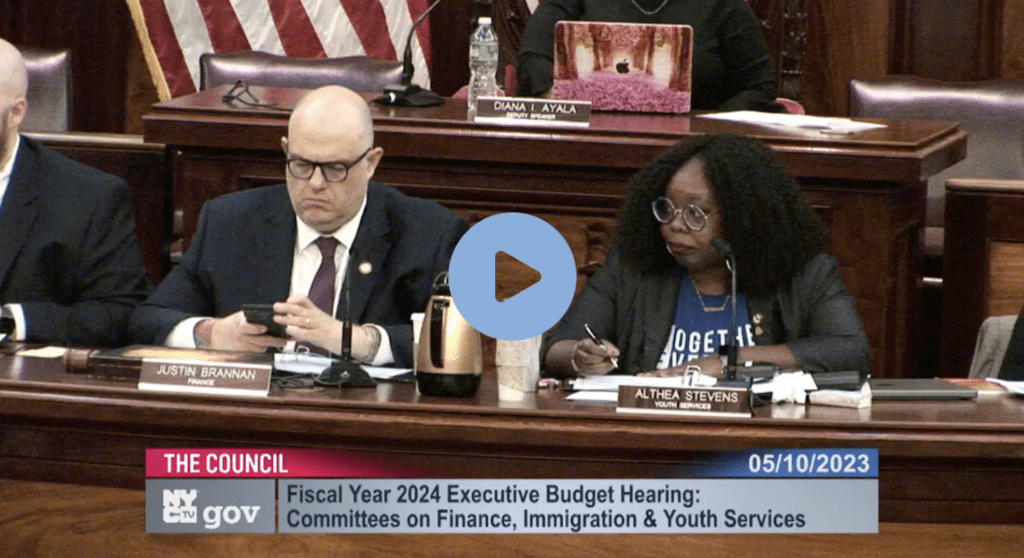 Finance Chair Brannan and Youth Services Chair Stevens speak with Commissioner Howard and his team (2 hours 20 minutes into the recorded hearing) 
In response to the administration's Preliminary Plan, City Council flagged a number of items missing that it wished to see DYCD fund. These included providing MetroCards for all Summer Youth Employment Program (SYEP) participants (at a cost of $11 million), expansion of the Work Learn & Grow program from 2,000 to 5,000 slots ($22 million), baselining of funds for adult literacy programs ($6.7 million), and expansion of programs serving Runaway and Homeless Youth ($6.3 million). To the evident frustration of Youth Services Committee Chair Althea Stevens and her colleagues, the revised Executive budget did not include any of these items.
DYCD Commissioner Keith Howard and his team offered updates regarding DYCD's two most prominent summer programs. As SYEP prepares to celebrate its 60th anniversary in 2023, the program received 173,730 applications, believed to be a record. More than 47,000 participants already have been enrolled, nearly twice the number at this time last year, and SYEP is on course to serve 100,000 participants. The program additionally has secured 8,137 commitments from employer sites—most of which will host multiple participants—including 64 from City agencies.
Council questioning of DYCD began with Finance Chair Justin Brannan, who pushed DYCD on the agency's ongoing high vacancy rate. Chair Brannan noted that DYCD's authorized headcount for Fiscal Year 2023, which concludes on June 30, is 517, and that the agency is well short of that number. Of particular concern is the agency's procurement capacity, where DYCD has six vacancies (out of a total headcount of approximately 40) but is "aggressively looking to hire."
Chair Stevens and others expressed concern about DYCD's Adult Literacy programs. Current contracts pay providers between $850 and $950 per participant, or roughly a third of the $2,700 per participant that Council members cited as necessary to fully serve students. In a concept paper released last October to inform new Requests for Proposals, DYCD indicated that the next set of contracts would raise the price per participant to $1,300. While acknowledging the increase, Council pushed the agency to further expand resources, with Council Member Gale Brewer noting that the City serves only about 4 percent of the citywide need for basic education services.
A full recording of the hearing is available on the Council's page.
Additional Resources
— City Council Committee report on DYCD FY 24 Executive Budget
— DYCD Adult Literacy concept paper
— Strengthening Adult Literacy Education: Results from the NYC Pilot Project
— Office of Neighborhood Safety