NYCETC's Member Spotlight series introduces our readers to the wide variety of workforce programs and services that our members offer across the five boroughs, highlight the ways in which organizations have shifted their services to best support their clients and communities during the COVID pandemic and within the post-COVID economy. This week we focus on Commonpoint Queens.
If you'd like to be featured in our Member Spotlight series, contact Stephanie Birmingham at sbirmingham@nycetc.org.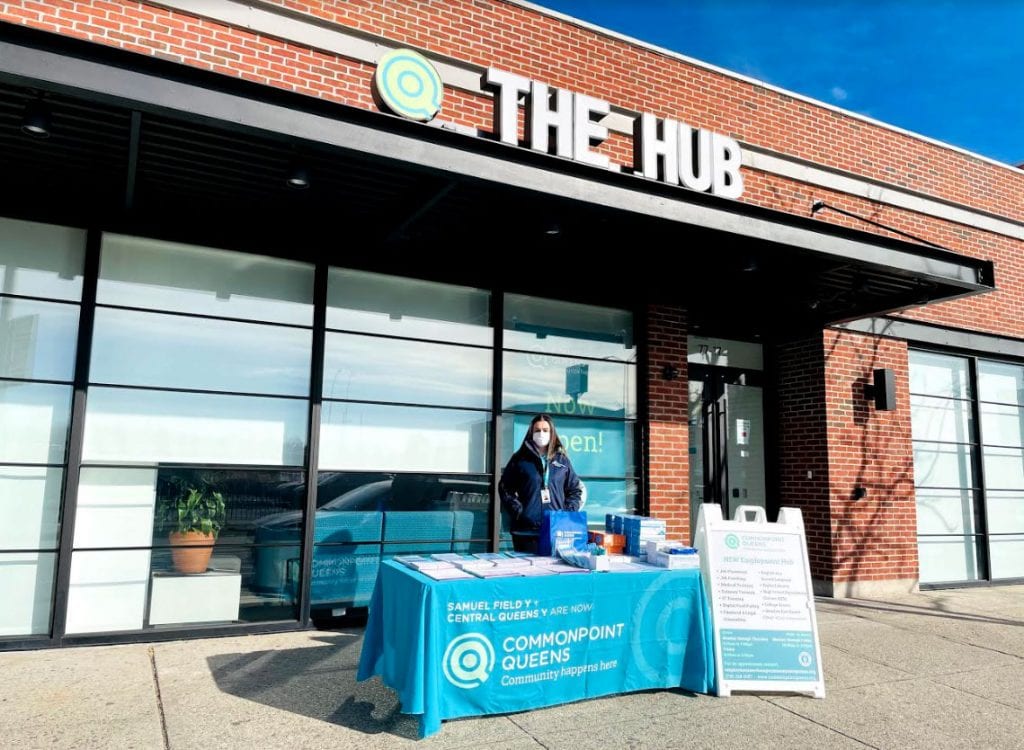 Kathy, a Queens mom, needed a path forward after losing her job during the COVID crisis. She found employment support at the Queens Hub with the help of her employment counselor Ahuva, starting a position with the Test and Trace Corps operating within Commonpoint Queens in December. She now supports with the highest number of COVID cases by encouraging New Yorkers to get tested through pop up events at food pantries and houses of worship, educating New Yorkers on how to prevent COVID infections, distributing masks, and providing information to those that test positive on free resources available to the community, like staying in a hotel at no charge. "Doing this work is rewarding because I'm doing something for the community. People are really hurting and need assistance. The Hub made a difference for me, and now I can make a difference for other people," said Kathy.
Commonpoint Queens is a social services organization that serves individuals and families from a wide-range of ethnic, racial, and cultural backgrounds, including many immigrants. This past fall, Commonpoint opened their Employment Services Hub, a 9,600 square foot multi-services center located in Elmhurst, Queens, which is a low-income, high unemployment area home to a large proportion of immigrants and people of color. The Hub is expected to provide a comprehensive range of social and employment services to 6,000 individuals in its first year. Services include: 1) vocational training (allied health, tech, culinary arts and entrepreneurship); 2) educational courses (pre-HSE, HSE, ESOL, and digital literacy courses); 3) internships; 4) financial, legal and loan counseling; and 5) emergency food. 2,000 of these individuals will specifically receive job placement and retention services.
Workforce Programs During COVID
Since the start of the pandemic, all of these services are being offered remotely. Comprehensive employment services continued, including new intakes, referrals to resources, individual counseling, and job placement assistance. Commonpoint has been offering virtual career development workshops, including remote interviewing skills. Commonpoint employment staff hosted virtual recruitment events and were successful in connecting job seekers to employment opportunities with the Jewish Board, CAO, and Renewal Care. In collaboration with the New York Legal Assistance Group, Commonpoint has also offered workshops focused on accessing unemployment benefits and revising monthly budgets.
Commonpoint has traditionally offered a broad menu of vocational trainings in the allied health field. At the height of the pandemic however, it became difficult for individuals to complete their certifications, due to the hands-on clinical hours required prior to taking the state exams. Many health care sites were unwilling to take on interns. On top of this, training participants expressed a fear of working in a direct care setting due to COVID. This prompted Commonpoint to re-evaluate their certification portfolio, ultimately deciding to broaden their vocational training offerings. The organization has established a partnership with Per Scholas to offer various IT certifications, and launched an in-house culinary training program. The first students referred to Per Scholas will begin remote learning in June 2021, and their first cohort of the culinary training program will launch this month. This training will be a hybrid model with hands-on training in the kitchen and additional classroom instruction done remotely.
Commonpoint recently also began offering in-person career readiness and pharmacy technician classes. The Hub has the capacity to host classes with enough space to keep everyone safe and adhere to social distancing guidelines.
Wraparound Supports
Since the Hub's opening in October, Commonpoint has also welcomed clients back into the building for intakes, individual sessions, and food pantry orders/pick-ups, with use of their food pantry increasing by 300% over the previous year. Vocational training and education classes have been offered virtually.
Commonpoint has been offering virtual mental health workshops to discuss tools for anxiety management, self-care, and life after COVID. The organization knew that in order to keep individuals hopeful, motivated and mentally engaged, they needed to offer an outlet where participants could voice their concerns, share best practices, and stay connected to a community with which they had familiarity.
Funding from UJA-Federation of NY allowed Commonpoint to provide cash assistance to families and individuals who were financially affected by the pandemic. Commonpoint distributed $405,000 in cash assistance from March to July, and Hub staff has also been able to provide remote screening and enrollment in HRA cash assistance, SNAP, and rental assistance programs.
Lessons Learned During the Pandemic
Commonpoint noted that a major lesson learned this year is how essential technology is to the American workforce and thus, the agency's employment programs. Without a laptop, wif-fi, and computer skills, individuals across generations were limited in their ability to participate in their job search and programming.
"More than ever, we saw a need for ongoing professional development in computer skills and virtual learning programs. Changing technologies and new ways of working will continue to disrupt jobs and force employees to build new skills," said Brynn McCormick, Assistant Vice President for Adult Workforce at Commonpoint Queens. "It is urgent for workers across industries to figure out how they can adapt to rapidly changing conditions and how leaders can re-skill and upskill their workforce to deliver new business models in the post-pandemic era. To meet this challenge, employees will need to focus on improving their digital and cognitive capabilities, their social and emotional skills, and their adaptability and resilience."
Read more about Commonpoint Queens and the newly opened Workforce Hub.