NYCETC is launching a Member Spotlight series in the NYC Workforce Weekly to introduce our readers to the wide variety of workforce programs and services that our members offer across the five boroughs. We are kicking this off by highlighting new members that have joined the Coalition in the last year, beginning with KindWork.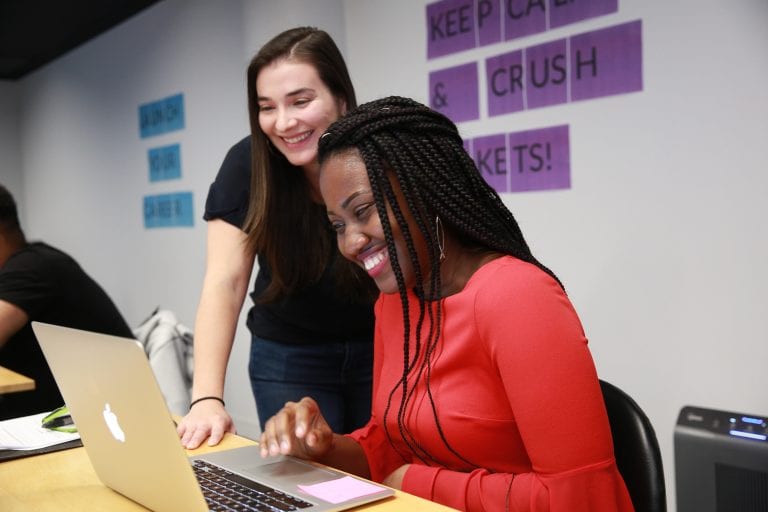 KindWork's mission is to help talented young adults from overlooked communities transform their economic outlook and launch a new career in the innovation economy. Launched last year by tech industry veterans Kate Doyle and Jeanine Mendez, KindWork focuses on training for tech and tech-adjacent careers in customer service and operations bolstered by deep coordination with their employer partners through an Industry Advisory Board comprised of hiring managers and subject-matter experts from the innovation economy who supported the development of its training curriculum.
"As a former public school teacher turned techie, I've long observed the need for more connective tissue between the tech sector and NYC's education and workforce community. I believe that more New Yorkers deserve a shot at the many career-ladder positions in the innovation economy," said Kate Doyle, Co-Founder & CEO of KindWork. "We need to broaden our thinking on what tech training can be — and look at roles like Customer Experience or Sales as viable entry points to the sector."
KindWork's core training program – Customer Experience & Support Accelerated Tech Training – is a 6-week bootcamp that equips young people (20-26) with the essential digital and professional skills needed to succeed in an entry-level role in the tech sector. Skills and certifications covered include Google Suite certification, Zendesk agent, Intercom agent, experience with email, live chat, phone, & in-person support, technical troubleshooting, and tech sector 101. Participants are then placed in their first job and provided dedicated career coaching for a full year post-placement to ensure their first role in tech is a launchpad for a career. Employer partners include Uber, Zola, JustWorks, Via and WeWork. KindWork has also established a strategic partnership with Brooklyn Workforce Innovations (a NYCETC member) to build capacity while they bring the program to scale. The two organizations have collaborated on recruitment, placement, and data evaluation best practices, as well as sharing their tech industry perspective on digital skills training.
Though KindWork is a new workforce program in NYC, it is already showing promising early results, with 90% of its November 2019 graduates working in tech sector roles. These graduates include Ifeoluwa Shoola, who documents how the KindWork Bootcamp has been a career game-changer in a Medium post, and Scott who, prior to contacting KindWork, was unemployed and uncertain about his future after leaving college without a degree due to financial hardship. Scott is now earning $54,000 as a Customer Experience Associate at Managed by Q a WeWork company. KindWork is currently recruiting for its next bootcamp taking place February 24 to April 3. Prospective students can learn more and apply at kindwork.org/apply.