Liberated Success' Mission
Liberated Success was founded as a grassroots community organization to respond to the needs of Black students, families, and educators in youth career development.
They believe that the vision toward success combines financial stability and engaging in work that brings joy. Their work centers on deconstructing the concept of professionalism and providing young people with culturally relevant tools and strategies that prepare them for internships, employment, training, and college.
Career Development Services
High school students are behind in their career development because of lost opportunities due to the pandemic, and Liberated Success was founded in direct response to this moment. 
Through their Liberated Problem Solvers program, hybrid employment and internship readiness services are provided to high school students in Brooklyn. This program combines virtual career development workshops and in-person events for students to hone their soft and interpersonal skills for immediate internship and employment opportunities.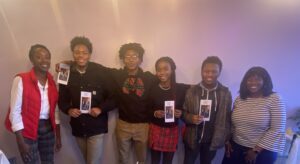 Students and instructors from Liberated Problem Solvers, Fall 2021.
Ebony Tyler, Founder & Executive Director, expands on this further, "It's really important for students to experience employment in a safe way. We are looking for employers that want to provide both employment and mentorship as a part of a student's first job opportunity. This really ties into diversity, belonging, equity, and inclusion work. We openly discuss what values student's bring and how that can mesh with an employer's values. A lot of this tends to be introspective work for young people. What do they bring to the world and what are their values, because those things do inform the type of choices that you make."
Ms. Tyler additionally shares their vocational rehabilitation counseling and transition services work in Brooklyn and the Bronx's public schools. "Transition services is a big umbrella term for working with students with a disability within three transition domains: employment, education, and independent living. Our approach when working with students always centers on exploring students options in these domains."
College Preparation
Liberated Success also uses the power of collective economics to offset the cost of college tours for families and schools, which would otherwise not be within reach. By providing these college tours, it exposes young people to as many Historically Black Colleges and Universities (HBCUs) so that they may choose an HBCU education and return to their communities empowered to be change agents.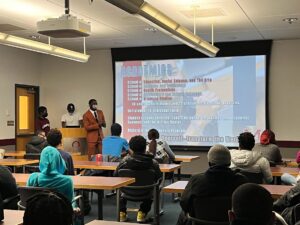 Students attend a college tour of University of Maryland Eastern Shore providing an overview of academic life and support services for college students.
Stay up to date on Liberated Success on Facebook, Instagram, Twitter.