The Marcy Lab School's Mission
"The Marcy Lab School is committed to building generative pathways between education and the workforce sector to bridge the gap for young adults who are disconnected from the workforce or who have not benefited from the best of what traditional higher education has to offer."
Grounded in creating a path toward social and economic mobility, The Marcy Lab School is an alternative to college that provides historically underrepresented young adults with a holistic accelerated pathway to land a high-paying job in the tech industry.
Students between the ages of 18 – 24 participate in the Software Engineering Fellowship – a 12-month post-secondary program designed to prepare high-achieving young adults from diverse backgrounds for full-time careers in software engineering. The curriculum, deliberately holistic, includes a mix of computer science and software engineering training as well as leadership seminars that center on race and identity development, civic studies, and career fluency.
Each Fellow is matched with a mentor in the tech industry and begins the foundations of their professional network and community. The program is entirely tuition-free, and after one year, each student graduates with over 2,000 hours of technical skills gained, as well nearly 500 hours of leadership development training.
The Marcy Lab School is committed to building generative pathways between education and the workforce sector to bridge the gap for young adults who are disconnected from the workforce or who have not benefited from the best of what traditional higher education has to offer.
Since its founding in 2019, the Marcy Lab School has successfully developed meaningful relationships with employer partners and has established itself as a key provider of highly-skilled talent from diverse backgrounds to NYC employers including WW International, JP Morgan, and Democracy Works.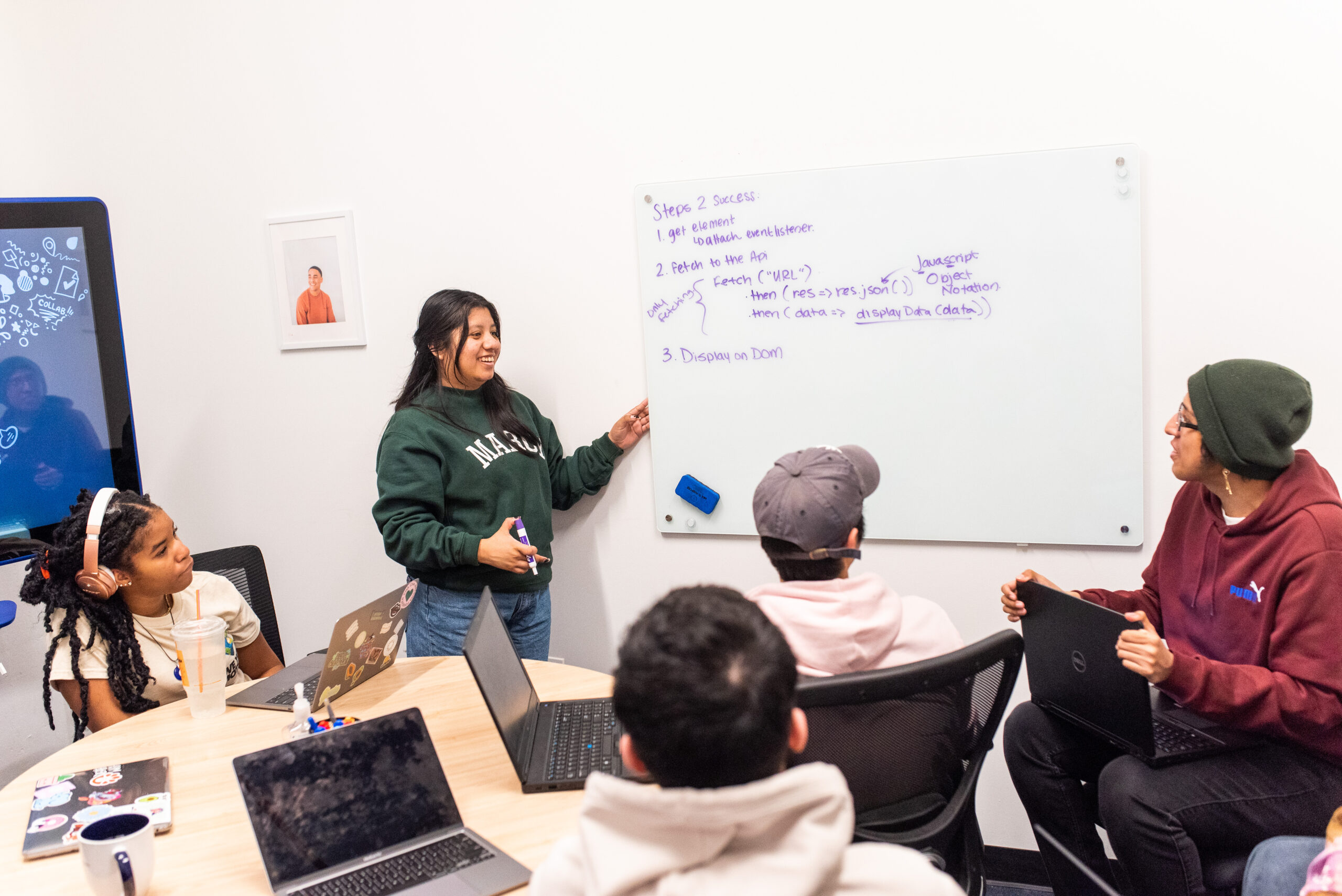 How The Marcy Lab School is Redefining Role Requirements with NYC Tech Employers
A deeply unsettling pre-pandemic statistic states that around 14.5% or approximately 1 in 7 Brooklynites between 16-24 years old are "disconnected," meaning they are both out of school and out of work. With the pandemic, these rates are likely much higher and underestimate of the true number of disconnected youth in Brooklyn.
As this number continues to rise and the cost of public and private college becomes prohibitively expensive, The Marcy Lab School aims to provide another choice for young learners – particularly Black and brown students – who are looking to unlock the kind of generational economic and social mobility that has historically only been understood to come with a college degree. In just one year, students in the Software Engineering Fellowship program graduate with an average starting salary of over $100,000.
Doubling as an advocate and a trailblazer, The Marcy Lab School has successfully disrupted the status quo, strategically pushing companies to hire based on skills and experience and not a college degree; systematically creating change in NYC's hiring landscape. As the above statistic suggests, there is a large pool of untapped talent in NYC's young adult population. Through careful execution, Marcy Lab has demonstrated the benefits and immediate impact of skills-based hiring over degree requirements with Fellows serving as living proof that nontraditional hiring can result in equal or stronger outcomes for employers.
With each new partnership in NYC, Marcy Lab is radically increasing the market share of not only employed software engineers of color but women of color who have been doubly excluded from the tech industry. Their work has unlocked access and opportunity for thousands of young adults in New York City that have been historically excluded from certain sectors in the workforce, particularly the wealth-generating roles that can break cycles of poverty in just one generation.
A Win-Win with WW International
In 2020, Marcy Lab began one of its first employer partnerships with WW International, formerly known as Weight Watchers. WW immediately recognized the unique value that the Marcy Lab collaboration offered: access to highly-skilled early talent, the ability to build diverse and skilled teams, cost-effective recruiting, and collaborative onboarding and training leading to greater on-the-job success and retention. WW hired three Fellows from the inaugural Fellowship cohort as full-time software engineers and based on that success, a mutual desire emerged to expand the engagement and design a first-of-its-kind two-month rotational apprenticeship program.
"I'm not sure what the 'special sauce' may be that these students receive from The Marcy Lab School, but WW couldn't be happier to now have three intern conversions aboard our tech teams full-time." Betsey Corey, Hiring Manager, WW International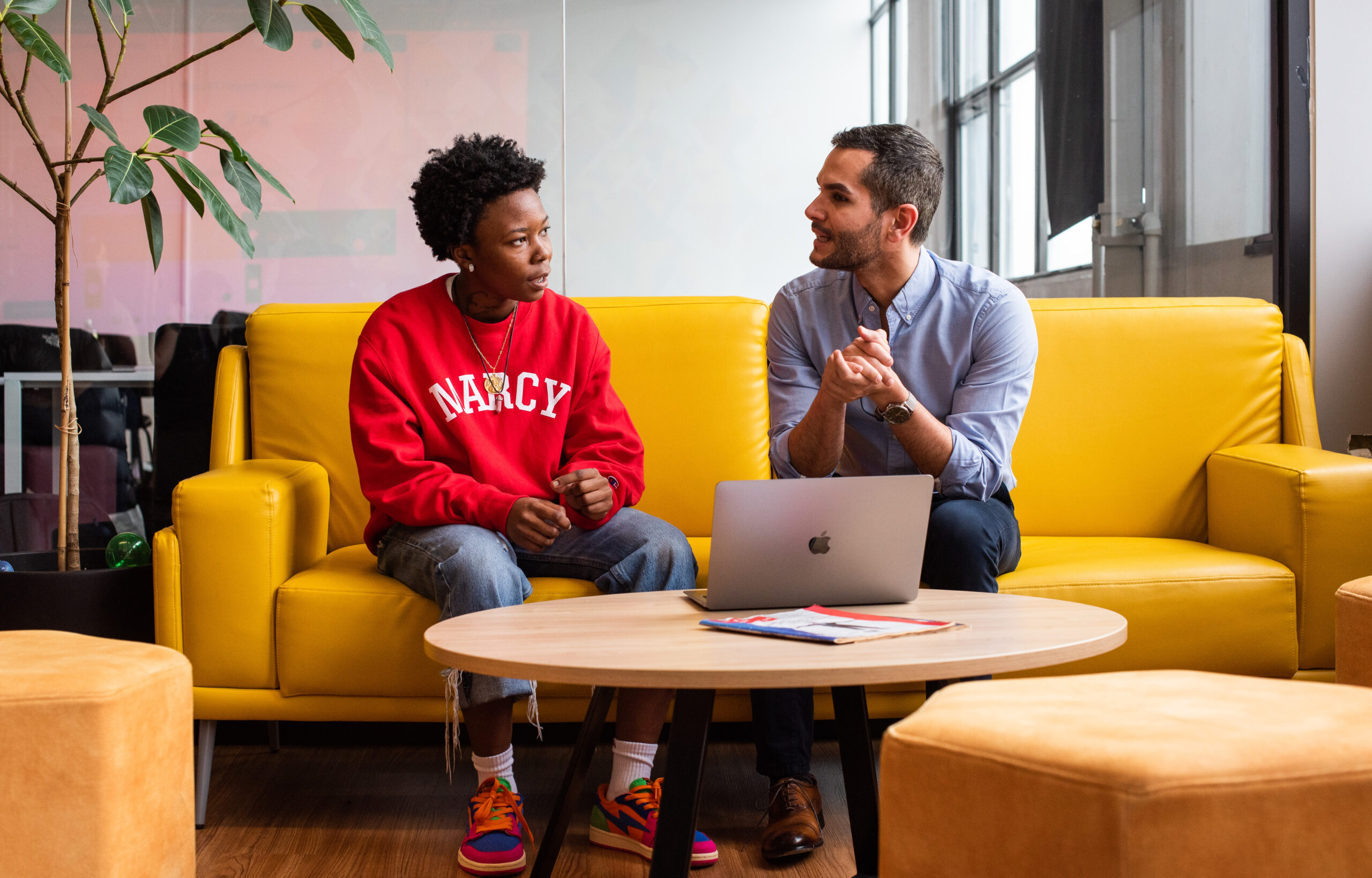 In January 2023, the first-ever Spring cohort began interning at WW and is currently working diligently to continue toward full-time engineering careers.

Pictured: A Marcy Lab Fellow meets with the Partnerships Engagement Manager to discuss her recent meeting with her Mentor. Photo: Mark Davis

Get Involved
Employer partners play an incredible role in the success of Marcy Lab Fellows, serving as hiring partners and on-the-job advocates, as well as volunteers and year-long mentors.
The Marcy Lab will work directly with your organization to:
— place Fellows into existing summer internship programs, enabling them to work alongside their peers from traditional 4-year colleges and embed themselves into engineering teams;
— develop bespoke 16–24 week apprenticeship programs as pathways to full-time employment; or
— identify immediate full-time opportunities that could be a fit for graduating Fellows and recent alumni.
Employer partners may also serve as mentors, curriculum advisors, guest lecturers, and recruitment partners. They are a critical component of the Fellowship program, helping The Marcy Lab School to maintain an industry-aligned curriculum, and have been pivotal to the overall success of the Fellowship.
For more information on Employer Partnerships and how to contact the Partnerships team, check out this overview.
Apply for the Fellowship
The Marcy Lab School Fellowship is a full-time, 12-month program, with admissions recruiting occurring twice a year for Fall and Spring start dates. As a hybrid program, virtual learning is held on Mondays and Fridays, and in-person classes are held at the Brooklyn campus in Industry City on Tuesdays through Thursdays. Each day is structured from 9:30 AM–4:30 PM, with around 50 hours per week expected for in-class learning, studying, assignments, and project-based collaboration.
The Marcy Lab School Fellowship is currently accepting applications for the 2023 Fall Fellowship, which begins on September 26, 2023. Applicants between the ages of 18-24 who qualify can apply here by Sunday, May 14 2023!
Stay up-to-date with The Marcy Lab School on Twitter, Instagram, and LinkedIn!