Through a four-year Fellowship that includes long-term intensive training, a sourced job opportunity, and on-the-job support, Pursuit is creating generational wealth and economic transformation for New Yorkers with economic need and potential, to get their first tech jobs, advance in their careers, and become the next generation of leaders in tech.
Pursuit's Mission
Pursuit creates economic transformation and opportunity. Through their long-term intensive job training program, they help adults get their first tech jobs, advance in their careers, and become the next generation of leaders in technology.
The technology industry is creating more wealth, more companies, and more jobs than ever before. At the same time, these opportunities are not reaching everyone, further deepening income inequality and increasing the economic divide. According to the 2020 report "Plugging In: Building NYC's Tech Education & Training Ecosystem by Center for an Urban Future and Tech:NYC," the demand for tech talent grows, but too few of these jobs are going to New Yorkers from low-income communities. Pursuit is proud to lead the way in addressing these challenges and expanding access to tech training.
Pursuit in Action
Pursuit believes that everyone should have equal access to training to become software engineers, even with no previous experience. Their mission is to create generational wealth and economic transformation. Their Fellowship raises graduates' income from an average of $18,000 to $85,000 and serves an audience that is 100% low-income, 50% women, 70% underrepresented minorities, 40% immigrants, 50%+ on public assistance, and 60% without four-year college degrees. Pursuit Fellows have been hired at over 200+ leading companies, including Uber, Twitter, Peloton, and Google. Through their Pursuit Commit program, Pursuit partners with employers to source jobs for their Fellows and provide three years of career support. As the city begins to rebuild from the Covid-19 pandemic, they want to ensure our most vulnerable New Yorkers are not left behind.
In March 2022, and in partnership with Goodwill, Pursuit launched a free, online, 5-week bridge program called Bridge to Technology. This program offers a path for applicants to enter Pursuit's Fellowship, or any other tech training program, by building skills crucial for success – like math, reading, logic, and coding. Learn more about bridge and pre-apprenticeship programming in the Coalition's 2020 report, "Bridging New Yorkers Into Good Jobs."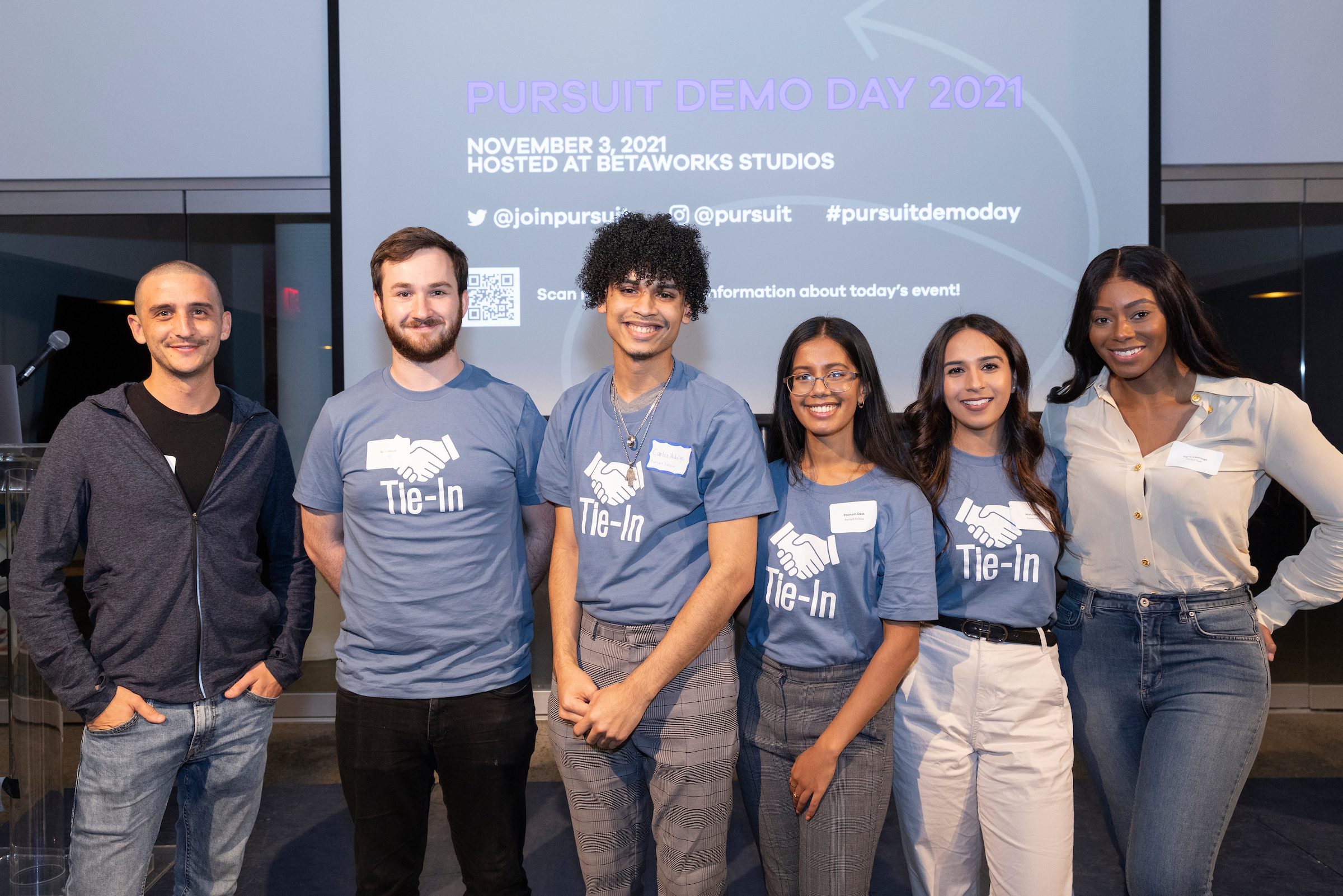 Pursuit students and their instructors gather to celebrate after presenting their final projects to employers and tech professionals, Nov 2021.
Pursuit's Demo Day is the culmination of the technical curriculum. After completing almost a year of intensive training, Fellows work in small teams for six weeks to build a capstone project where they are challenged to produce an inspiring app from start to finish. At Demo Day, Fellows present their completed app, develop their professional presentation skills, and officially kick off their career search. This event is an exciting opportunity for Fellows to meet industry professionals, hiring partners, and friends of Pursuit, as well as a moment to celebrate their entry into New York City's tech community.
A recent Fellow, Jessica Perez-Valle, shared her journey to a successful career as a Technical Account Manager at Amazon Web Services in a Pursuit Fellow feature. Jessica reflected on a turning point in her learning and job search. "[…] once I began to go at my own pace and really focus on doing what felt right for me–not what others were doing, and I acknowledged MY efforts, my path was clear," she said.
Strengthening Employer Relationships
The business development team at Pursuit is dedicated to forming relationships with employers, like Amazon Web Services. They've worked with employers to re-evaluate traditional modes of thinking, such as the need for a four-year degree to be prepared and successful in a software engineering role.
Raquel Martinez, Director of Growth, and Remi Szymborski, Community Partnerships Manager, shared more thoughts on their programming and developing employer relationships in a recent conversation with NYCETC. They stressed that a key thing is to keep in mind that, within NYC, almost 70% do not have a college degree, and there is an assumption that, in order to be successful in a software engineering role, one needs a degree. Raquel adds:
"By requiring that degree, companies are excluding many individuals who don't have resources to get that degree, even though they have demonstrated talent. One-hundred% of our Fellows come from low-income backgrounds, and we are working to open pathways to employment in this industry. Our curriculum creates job ready applicants and focuses on both technical training and professional training. Andour employer partners commit to work with us beyond placement. We really ask them to not only invest in our junior engineers, but then understand this is a career path that will lead to a senior engineer role. It's a win-win for the employer because we are helping to cultivate talent. Additionally, we enable diverse teams–employers need a strong partner in order to build diverse pipelines for hiring. In this way we are really a social impact organization. We find applicants, and I stress the word 'find,' because so many do not know that an opportunity for training and placement in software engineering exists and is attainable. We are working to change that."
Pursuit recently raised $10 million in impact investments to support its growth, create a sustainable financing model for job training, and provide economic mobility for more Americans. This investment will enable Pursuit to equip 1,000 adults from low-income backgrounds with the tools and skills they need to become software engineers and thrive in tech careers. In doing so, Pursuit will create over $1 billion in increased lifetime earnings for Pursuit Fellows.
Stay up-to-date and learn more about Pursuit on Twitter, Instagram, LinkedIn and sign-up for their community partner newsletter. If you would like to inquire regarding community partnerships and collaborations, please email remi@pursuit.org.