NYCETC's Member Spotlight series – which introduces our readers to the wide variety of workforce programs and services that our members offer across the five boroughs – is shifting to highlight the ways in which organizations have shifted their services to best support their clients and communities during the COVID pandemic and within the post-COVID economy. This week we focus on StreetWise Partners.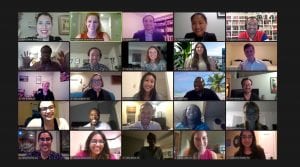 A high national unemployment rate translates into fierce competition for jobs. This is especially true for adults living in low-income communities where COVID-19 has hit the hardest and access to job opportunities has been historically limited. As we eye economic recovery and work readiness for underserved communities, it is critical to focus on a solution that is effective and beneficial to many: mentorship.
In today's environment, the value derived from mentoring is more important than ever. As overlooked adults compete for jobs, they need a strong foundation of essential soft skills to successfully interview, engage and succeed on the job. Mentoring provides customized, one-to-one attention and reinforces positive skill building, while providing a safe space to make mistakes that allow mentees to learn and grow. Mentors help problem solve, provide valuable industry knowledge and assist with confidence building. In fact, employees who received mentoring were promoted five times more often than people who didn't have mentors.
Social capital has never been more important, especially for New Yorkers who inherit unequal networks. Some estimates suggest that up to 70% of all jobs are not published on publicly available job search sites. Research has long shown that up to 80% of jobs are filled through networking, with LinkedIn reporting that more than 70% of professionals get hired at companies where they already have a connection and applicants who are referred to a job by a current employee are 9 times more likely to get hired.
StreetWise Partners is a 23-year-old non-profit mentoring organization that drives social capital building and economic equity through its innovative programming. StreetWise pairs mentors with unemployed and underemployed adults to ensure a quantity, quality and diversity of relationships through their 2,000 volunteers. Mentors teach mentees how to identify opportunities, expertly promote themselves, and navigate the job market to achieve their goals. Their structured, curriculum driven program model delivers 13- weeks of "in-person" mentoring and 9 months of follow-up. All programming has transitioned into a virtual setting, and the organization will serve 600 adults this year across NYC, D.C. and Detroit. StreetWise closely collaborates with workforce organizations, service providers and academic institutions, providing much needed career development support to clients. As a result of their programs, 70% of graduates are employed, with full time salaries averaging $60K a year.
As with many organizations who quickly transitioned to a remote environment in response to the pandemic, StreetWise connected with program alumni, current mentees, and volunteers to identify and connect constituents with direct financial aid, food assistance, and mental health resources. Through a needs assessment survey, StreetWise found that 54% of clients reported that they had a reduction in hours or had been laid off due to the coronavirus; 31% reported needing skill development (especially in digital work tools like Zoom); and 15% reported challenges in accessing technology. Clients' top concerns included reduction in hours/layoff, ability to pay utilities or buy basic needs, mental health issues, and retaining new job or internship offers in the summer.
In response to growing client needs, StreetWise has set up virtual happy hours, webinars, and one-on-one office hours between alumni and volunteers. This includes a robust set of COVID-19 community resources to help clients connect to organizations offering support that StreetWise is unable to provide, such as housing assistance. In order to address clients and alumni's growing financial needs, StreetWise connected alumni to financial aid, distributing more than $50,000 to 120 alumni through a partnership with the Stand Together Foundation and the Family Independence Initiative. Additional Robin Hood Foundation funding is being used to support 40 alumni in acquiring technology solutions in order to better access programming and advance their job search.
For more information on becoming a mentor or volunteer and sharing your professional expertise or participating as a mentee, visit StreetWise Partners.