We're excited to welcome you at our 2022 NYCETC Conference: Advancing Talent & Equity for a Thriving Economy. This year's conference will be held on Thursday, October 13th from 9 am to 5 pm at the CUNY Graduate Center, 365 Fifth Avenue, New York, NY 10016 and live-streamed via Zoom. Below, we've included an overview of the day, including more information on tickets and sponsorship, and FAQ's like our health and safety protocols and how to become a conference speaker.
We'll be updating this information weekly, so please check back for more details as they are confirmed. As always if you have any questions, please be in touch with Stephanie, Director of Community and Operations, sbirmingham@nycetc.org or (646) 866-7097.
Overview
Agenda
This year's conference theme "Advancing Talent & Equity for a Thriving Economy" will examine the systemic, programmatic, and business challenges and impactful solutions found within workforce and economic development. The day will be split between morning and afternoon sessions, buffered by breakfast, lunch, and an afternoon break for members of the workforce development community to network with their peers.
The panel discussions and fireside chats are outlined below, and will be moderated by reporters from NY1, the New York Times, WNYC, THE CITY, Crain's NY Business, and Gotham Gazette. Throughout the day, we will feature a variety of 8-minute TED-style solutions presented by our members and partners that will showcase the diversity and creativity of New York City's workforce ecosystem.
Morning Agenda
The morning sessions are centered around the City's vision for an improved workforce ecosystem and equitable recovery. We will hear from leadership from the Mayor's Office, City agencies, and the City Council on their vision and plans creating a stronger system and services for New Yorkers and businesses, and how service providers can collaborate.
The Future of Workers Task Force
Discussion with members of the Future of Workers Task Force to provide a deeper understanding of the role, goals and objectives of the Task Force and its engagement with workforce service providers to create a stronger system and services for New Yorkers and businesses. Speakers have been invited from Goodwill NYNJ, NYC Office of the Mayor, City University of New York, Fund for the City of New York, and Ernst & Young.
Implementing a Vision for a Stronger Workforce System
Discussion between City agency leadership at HRA, SBS, DYCD and NYCEDC about how the Mayor Adams' economic recovery blueprint will reflect their overall programming plans over the next two years, current and future contracts, and how community based organizations can better partner with agencies. Speakers have been invited from the Mayor's Office of Talent and Workforce Development, NYC Economic Development Corporation (NYC EDC), Human Resources Administration (HRA), Small Business Services (SBS), and Department of Youth and Community Development (DYCD).
A Conversation with City Council Leaders
A fireside chat with City Council leaders about what the Council is doing to support New Yorkers and businesses in the economic recovery, job growth, and to access opportunity right now.
Inclusive Growth: A Strategy for an Equitable Recovery
Members of the New York City Inclusive Growth Initiative's steering committee will discuss how housing and economic development weave together with workforce development and address growing sectors, such as green jobs and cannabis, and integrating local community needs, especially workforce into sector development. Speakers have been invited from Kinetic Communities Consulting, Riseboro Community Partnership, Brookdale Center for Healthy Aging at Hunter College, Jeremiah Program – Brooklyn, and Upper Manhattan Empowerment Zone Development Corporation (UMEZ).
Afternoon Agenda
The afternoon's sessions will examine the landscape of workforce services and how organizations across the system are collaborating and developing functional and actionable programming for their clients to access careers in our 21st century economy. Themes for the afternoon slate of programming include: program structures and funding, talent development, the great resignation, labor market needs, and the role of unions and organizing.
Post-Pandemic Economy and Skills for 21st Century Economy
Discussion about labor market changes including the great resignation and a slow jobs recovery, the actions employers and providers are taking to better equip New Yorkers with 21st century economy skills, and unpacking what businesses and job seekers need to flourish in today's economy. Speakers have been invited from Google, NYU School of Professional Studies, Robin Hood Foundation, the Bronx Chamber of Commerce, and the Ford Foundation.
New York City's Workforce Landscape
An in-depth look at the New York City Workforce Landscape report released earlier this month by NYCETC, WPTI, and the Center for New York City Affairs at the New School, takeaways from NYATEP's Statewide Workforce Equity Analysis Tool to address the inequities that the workforce system internally perpetuates; and discussion with service providers on pandemic and post-pandemic challenges.
A Conversation with Labor Leaders
A discussion with labor leaders about unions' plans for supporting workers in training and reskilling, how the community-based provider community can better connect their clients to apprenticeships, and how the workforce ecosystem can better collaborate with one another during this time of heightened need and historic sectoral changes. Speakers have been invited from 1199SEIU Training and Employment Funds, the Building and Construction Trade Council of Greater New York, and the Retail, Wholesale and Department Store Union.
A Conversation with NYCETC's New CEO
A fireside chat with our new CEO about NYCETC's vision and plans for the coming year of advocacy and programming.
Sponsorship and Tickets
We're excited to host you and your team on October 13th, and thank you in advance for your crucial support of this event and the Coalition. You may register online to attend or become a sponsor.
Individuals are welcome to purchase in-person conference tickets for $150 for non-members and $100 for NYCETC members. Or, attend virtually and tune into a live-stream of our main stage discussions via Zoom for $25. The deadline to register for tickets is October 11th, or while supplies last.
Additionally, sponsorship is a great way for organizations and companies to receive special perks like bulk tickets for your team and company placement, and all the while, showing your strong support of the Coalition. Sponsorship begins at $1,500 and you can find full details in our sponsor packet. Pledge your support no later than September 30th.
FAQs
What are your health and safety protocols?
All conference guests must present proof of Covid-19 vaccination, or negative PCR test results with a test administered within seven days of the conference.* Our team will ask for these documents when you check-in on 10/13.
While masks are not required, they are strongly recommended. We encourage all guests to wear high quality masks that cover their nose and mouth for the duration of the conference.
*If you present negative PCR test results, the test must be administered within seven days of the conference (i.e., on or between 10/7 and 10/13). As the Covid-19 situation continues to evolve, safety guidelines may change between now and the time of the event. We will adhere to all CDC guidelines and take all necessary precautions to ensure the safety and health of our guests and team members.
Will there be a live stream of the event for people that can not attend?
Yes, we are live-streaming our main stage programming this year! You may access the live-stream via Zoom by reserving a $25 virtual ticket. Our ticket registration page is here. The deadline to register for tickets is October 11.
What is the best way to get to the CUNY Graduate Center?
The CUNY Graduate Center, 365 Fifth Avenue, New York, NY 10016 is located on Fifth Avenue between 34th and 35th Streets. We suggest using public transit or ride share to arrive at the conference.
The closest subway station is 34th St Herald Square on 33rd Street and 6th Avenue and is served by the B, D, F, N, R, Q and W subway lines. The Graduate Center is also two blocks away from 34th St Penn Station, on 7th Avenue and 32nd Street and is served by the A, C, E, 1, 2, 3, and Long Island Railroad lines.
The nearest paid parking lot is GGMC Parking located two blocks down on 33rd Street and 5th Avenue, on 8 East 33rd Street, New York, NY 10016.
The building is ADA compliant and there is a wheelchair accessible ramp at the far left set of doors at the front entrance.
What accommodations will you provide during the conference?
We strive to host inclusive, accessible events that enable all individuals, including individuals with disabilities, to engage fully. This conference includes live captioning, reserved front row seating, wheelchair access, a lactation room, gender neutral bathrooms, and advance access to the program book and presentation slides.
Please be in touch with MJ, mdelgadoureche@nycetc.org or (646) 866-7134 at least seven days prior to the event if you require an ASL interpreter, assistive listening device, or other accommodation not listed here.
Who should attend this conference?
We welcome anyone interested in economic justice and New York City to attend! You might be a job developer, non-profit leader, social worker, government official, a local business owner, or part of corporate leadership.
Speakers
All Speakers
We're working on confirming speakers. Please check back soon.
Funders
Premiere

Supporter

Advocate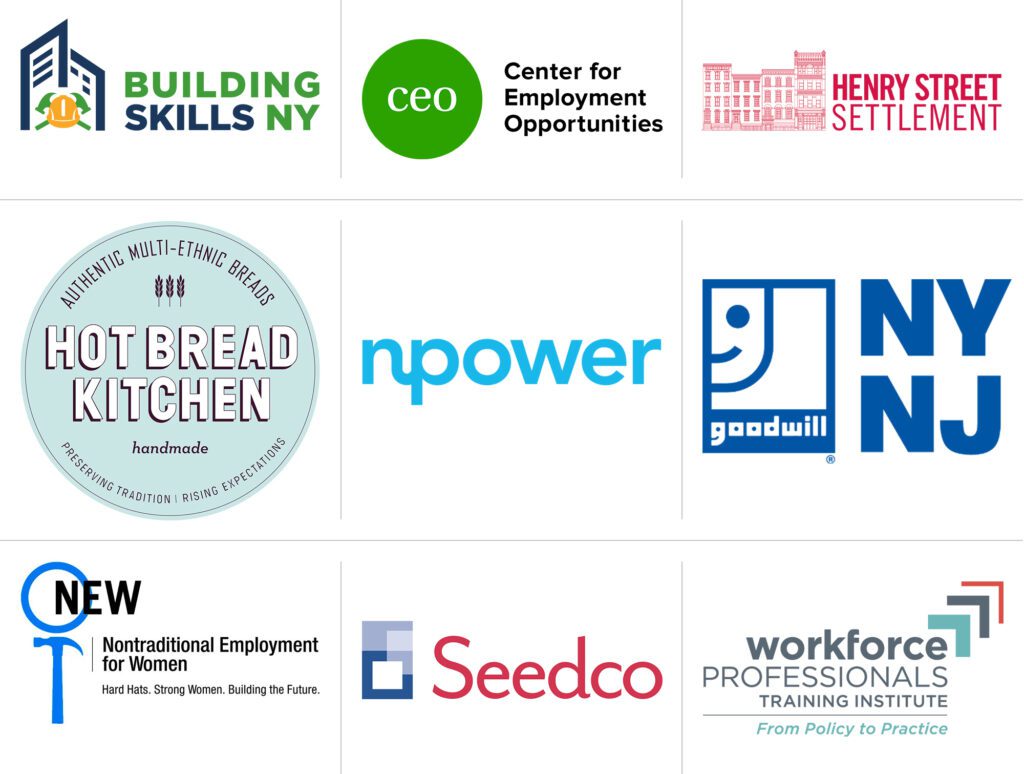 Friend
America Works of New York
BronxWorks
Brooklyn Community Services
Brooklyn Workforce Innovations
Chinese-American Planning Council, Inc.
Fedcap Inc
General Assembly
LaGuardia Community College
Mosholu Montefiore Community Center
NYC Kids RISE
Per Scholas
Rebuilding Together NYC
StreetWise Partners
STRIVE
The Data School powered by The Information Lab
The HOPE Program
The Knowledge House
Upper Manhattan Empowerment Zone Development Corporation
Workforce Development Institute
Space Partner
CUNY Graduate Center